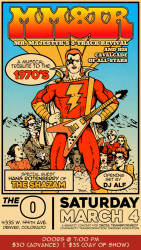 Mr. Majestyk's 8-Track Revival
Very Special Guest: Hans Rotenberry (The Shazam)
Pre Show with DJ Alf
Time: 8:00pm Day: Saturday Doors: 7:00pm Ages: All Ages / Bar with ID Price: $30 - $150

What do you get when you come to see a Mr. Majestyk's 8-Track Revival show?
You, cherished music-loving friend, receive an express lane time-travel transport back to forgotten but (very) happy music memories, laughing with old friends with cheap beer in hand, getting lost on the way to "the concert".
You get to revisit the nostalgia of longing glances and broken hearts – all of them flowing, coloring your cascading joy-filled recollections with the perfect backdrop of songs that still make your music-loving soul soar. 
We play the songs you know. The songs you love.  The best of the best.
Each and every one of our setlists are constructed by the rock gods, sprinkling their blessing on everyone in the crowd. Strangers smiling, knowingly and unknowingly in unison, fists raised pumping the air, husbands and wives, boyfriends and girlfriends, friendly companions pulled closer in embrace with these classic tunes playing in the background.

And yeah, you get a fiercely talented 8-piece band who bring the heat with Grade A performances and jaw-dropping perfect execution of songs most bands don't dare to try. We are a cover song battleship that plows headstrong into the 70's current with glee. 

After all that, what do you leave with?
A night to remember for years to come, after basking in the awe of a unique collective re-experience of the absolute very best of the 70's music train.