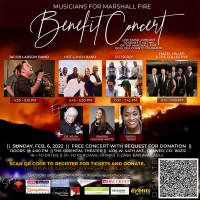 Musicians For Marshall Fire Benefit Concert
Hazel Miller, Dotsero, Hot Lunch Band, Jacob Larson Band
MC's: Dr. Kevin Fitgerald, Sandra Holman-Watts & Sheryl Renee
Time: 4:30pm Day: Sunday Doors: 4:00pm Ages: All Ages / Bar with ID
This Event Has Ended
Musicians For Marshall Benefit Concert at the Oriental Theater Feb 6,2022 Hazel Miller, DOTSERO, Hot Lunch, Jacob Larson & Kevin Fitzgerald
About this event
LIVE MUSIC CONCERT TO BENEFIT VICTIMS OF THE MARSHALL FIRE BOULDER COUNTY COLORADO. Suggested Donations of $30 per person requested to attend. There is no fee to attend the benefit concert. You must present your Eventbrite ticket to gain entry. Working with Colorado Gives, 100% of the donations will go to Boulder County Wildfire Fund by The Community Foundation Serving Boulder County. Donations accepted via QR CODE and direct link : DONATE HERE BEFORE REGISTERING TO ATTEND PLEASE: USE QR CODE OR LINK BELOW https://www.coloradogives.org/MusiciansforMarshallFire?step=step1 
Doors at 4p. 360 seats available followed by standing room. First come first served on the seats. Dance Floor, Cash Bars, and GREAT LIVE MUSIC. 
Performance Times: Jacob Larson Band 430-515, Hot Lunch Band 545p-630p, DOTSERO 7-745p, Hazel Miller 815-9p Emcee's: Dr Kevin Fitzgerald, Sandra Holman-Watts & Sheryl Renee. 
Special Thanks to our sponsors: Orange Theory Fitness, Imprint Group and The Oriental Theater. If you would like to be a sponsor to aid in our plight please email: Sandra@liveatjacks.com
Please recognize the bands are donating their talents after having lost so much for over a year due to the pandemic. We respect and love them so much for this. Their Venmo info is available for gratuity. 
Special thanks to Sheryl Renee for website design and creation. Musiciansformarshallfire.org 
How it started: Colorado's icon and vocalist Hazel Miller created a Facebook post which was shared over 100 times, rallying the music community to lend our talents to the fundraising efforts. From there, a committee of top entertainment producers was formed.
Showtimes
8:00 pm
Hazel Miller Band
4:30 pm
Jacob Larson Band
Hazel Miller Band

Hazel Miller is not just a great singer; "She is a force of nature!" quotes the Rocky Mountain News. Her voice has been called "stunning, moving and powerful." Hazel has been a sought after performer in Colorado for the past 30 years.  The Hazel Miller Band was formed more than 2 decades ago.  HMB performs an eclectic blend of Jazz, R&B, Blues and original music. Hazel Miller Band's music is designed to make the audience dance and sing-along.  They play music that excites and involves the listener.   
The first highlight of 2015 was Ms. Miller's singing of the national anthem at the inauguration of Colorado Governor John Hickenlooper, January, 13, 2015.  Later on that night the Governor's Inaugural Concert featured the Lumineers, String Cheese Incident and Big Head Todd and the Monsters with Ms. Miller.  Ms. Miller performed at the FIS Alpine Ski Championships in Beaver Creek, Colorado on February 15,, 2015; with an estimated international television audience of 180,000,000 viewers.  Ms. Miller has been chosen to record a welcome greeting for visitors taking the trains to the main terminal at Denver International Airport. 
Winter of 2014 Ms. Miller toured with Big Head Todd and the Monsters.  They toured the entire country with great response from audiences. Ms. Miller had a great summer, 2014, of festival appearances in Grand Junction, Del Norte, Pagosa Springs, Frisco, Breckenridge, Erie, Boulder, Telluride, Mississippi, New Mexico and Wyoming.  HMB has appeared many times at the historic Red Rocks Amphitheater as the head liner and as an opener.  Ms. Miller has appeared as a special guest of Big Head Todd and the Monsters for more than 19 years.  This year marks HMB's second appearance as the opener for The Botanic Gardens Music Series.  Summer 2013 they opened for Al Green and 2014 had them opening for Michael Mc Donald at the Botanic Gardens in Denver.
Ms. Miller's music can be heard on many local radio stations KOA, KBCO, KUVO, KRFC, KOTO and KCNU.  Nationally, Sirius Radio and XM Radio are playing her music on the "Real Jazz" and "B. B. King's" Blues stations.  Mark Ruffin, on "Real Jazz" XM Radio added Ms. Miller to the lineup fall of 2010 and she continues to be a requested performer on radio stations nationally for example:  Martha's Vineyard, Charlotte, Miami and Chicago.   Ms. Miller sang on 6 tracks of the hit 2014 CD Blues Masters 3.  This CD featured Mickey Thomas from Jefferson Starship and Tim Tucker, executive producer and lead guitarist on the CD.  The reviews said this about Ms. Miller's vocal performance: "Miller's vocals would rival Koko Taylor".  The CD is recognized as The Blues CD sleep of 2014.