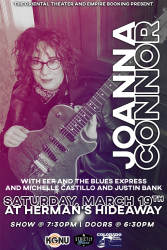 The Oriental Theater & Empire Booking Present:
Joanna Connor @ Herman's Hideaway!
with Eef and The Blues Express + Michelle Castillo & Justin Bank
Time: 7:30pm Day: Saturday Doors: 6:30pm Ages: 18+ / Bar with ID Price: $23

The Oriental Theater & Empire Booking Present Joanna Connor at Herman's Hideaway! With Special Guests: Eef & The Blues Express and Michelle Castillo & Justin Bank
What sets Joanna Connor apart from the rest of the pack of guitar-playing female blues singers is her skill on the instrument. Even though Connor has become an accomplished singer over time, her first love was guitar playing, and it shows in her live shows and on her recordings.
Brooklyn-born, Massachusetts-raised Joanna Connor was drawn to the Chicago blues scene like a bee to a half-full soda can. Connor, a fiery guitarist raised in the 1970s -- when rock & roll was all over the mass media -- just wanted to play blues. She was born August 31, 1962, in Brooklyn, N.Y., and raised by her mother in Worcester, MA. She benefitted from her mother's huge collection of blues and jazz recordings, and a young Connor was taken to see people like Taj Mahal, Bonnie Raitt, Ry Cooder and Buddy Guy in concert.
Connor got her first guitar at age seven. When she was 16, she began singing in Worcester-area bands, and when she was 22, she moved to Chicago. Soon after her arrival in 1984, she began sitting in with Chicago regulars like James Cotton, Junior Wells, Buddy Guy and A.C. Reed. She hooked up with Johnny Littlejohn's group for a short time before being asked by Dion Payton to join his 43rd Street Blues Band. She performed with Payton at the 1987 Chicago Blues Festival. Later that year, she was ready to put her own band together.
Her 1989 debut for the Blind Pig label, Believe It!, got her out of Chicago clubs and into clubs and festivals around the U.S., Canada and Europe. Her other albums include 1992's Fight for Blind Pig (the title track a Luther Allison tune), Living on the Road (1993) and Rock and Roll Gypsy (1995), the latter two for the Ruf Records label. Slidetime on Blind Pig followed in 1998 and Nothing But the Blues, a live recording of a 1999 show in Germany, appeared on the German Inakustik label in 2001. Connor left Blind Pig and signed to small indie label M.C. in 2002. Her first release for her new label, The Joanna Connor Band, finds Connor expanding her sound a bit in an attempt to reach a more mainstream audience. 
Connor has blossomed into a gifted blues songwriter. Her songwriting talents, strongly influenced by greats like Luther Allison, will insure that she stays in the blues spotlight for years to come. ~ Richard Skelly, Rovi
Showtimes
8:30 pm
Eef and the Blues Express
7:30 pm
MIchelle & Justin
Eef and the Blues Express


What do you get when you take a Dutch girl's blues-a-licious style and pair it with a solid lineup of veteran bluesmen? You get Eef and the Blues Express.
After forming in 2009, Denver based Eef and the Blues Express quickly established themselves as one of Colorado's finest and sought after Blues Acts. Eef was able to differentiate herself from other local blues bands by playing her funky original tunes, as well as catchy cover tunes. In 2013 Eef was selected as the winner in the Colorado Blues Society's Members Choice Awards in the 'Best Songwriter' category. In 2015, Eef and the Blues Express represented the Colorado Blues Society at the IBC in Memphis TN. They have opened for numerous national acts and have shared the stage with many fine musicians.
Audiences take notice of Eef and the Blues Express not just because of Eef-the-tall-Dutch-girl-with-the-red-guitar, but because fans are easily drawn in by the band's distinctive blues-with-a-smile approach. Behind that smile however, lays a world of sorrow exemplified in Eef's sultry voice and tasteful guitar playing. This, coupled with the solid backbone that the Blues Express provides, makes for a perfect blend of inspiration and soul.
As a young woman, Eef developed her musical skills in her native Holland, playing in bars and clubs before heeding the call in 1999 and migrating towards the home of the blues--America. Denver became her home and it wasn't long before Eef made a name for herself among both audiences and musicians alike in the thriving Denver blues scene. This early recognition laid the groundwork for Eef and the Blues Express to hit the ground running soon after forming.
The momentum continues with Eef self-producing four blues albums that enjoy airplay across the U.S. as well as internationally in France, Belgium, Denmark, The Netherlands, New Zealand and Australia. Additionally, Eef regularly tours The Netherlands and the mid-western United States.
Eef together with her band delivers a complete package. "This band is tight!" observed Bernard Allison upon hearing them perform.
Keeping the beat is Tim Molinaro on drums; driving the groove is Glenn Tapia on bass; and laying down sweet melodies on the keys are Jimmy Ayers and Scott Hackler. Special guest Ken Johnston joins the Blues Express on occasion on saxophone.
Keep an eye out for Eef and the Blues Express. As Coco Montoya once remarked--this is a great band!