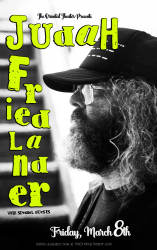 Judah Friedlander (30 Rock, Netflix)
Time: 8:00pm Day: Friday Doors: 7:00pm Ages: 18+ / Bar with ID Price: $25
This Event Has Ended
Judah Friedlander - Oriental Theatre, Denver - Friday 3/8/19
Judah Friedlander comes to The Oriental Theatre in Denver from New York City. Last year, Judah's critically acclaimed 84 minute stand-up performance film America Is the Greatest Country In the United States (Netflix, 2017) was named best comedy special of the year by many critics, comics, and fans.
Judah is back touring the USA with all new material after doing an 8 country 15 city tour in Europe.
Thematically similar to his Netflix special, but with all new material, Judah's new tour, Future President, features tons of jokes & profound satire covering all the big issues of the day from human rights to national & international affairs, as well as American Exceptionalism. And with Judah's hilarious & unique crowd work, he invites you to ask him questions about his presidential platform for 2020. 
Rave Reviews for "America Is Greatest Country In the United States"
Best Special of the Year & Comedian of the Year (2017) - The Interrobang
Best Special of the Year - Erik Abriss, The Hundreds (currently NY Magazine/Vulture)

"One of the great comedic minds of this generation and one of the most original voices performing comedy today, or ever." - The Interrobang
"A masterpiece of standup comedy." - Erik Abriss, The Hundreds (currently NY Magazine/Vulture)
"Coupled with his hilarious survey of how other nartions rank against the U.S., it's truly a remarkable display of crowd workm not only exhibiting Friedlander's comedic chops, b ut his formidable curiosity and breadth of knowledge about the world beyond America." - Vish Khanna, Exclaim! (Canada)
"The comic satirizes issues like systemic racism, fracking, and our nation's increasingly fucked-up place on the world stage." - Molly Fitzpatrick, Village 
Voice
"Ein Mann mit dem Rücken zur Wand, der die Welt mit Humor rettet". Translation: "A man with his back to the wall, saves the world with humor." - Tobias Ruther, Frankfurter Allgemeine Sonntagszeitung (Germany)
"The new @JudahWorldChamp special on @netflix is the most original & funny example of the genre I've seen in years. Well played sir!" -  Craig Ferguson (@CraigyFerg on Twitter)
"Friedlander's material represents smart political satire in its purest form." 
- Rosa Escandon , The Tusk
website: judahfriedlander.com
twitter: @judahworldchamp