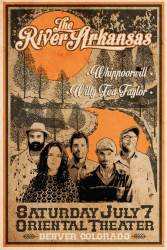 The River Arkansas • Whippoorwill • Willy Tea Taylor
Time: 8:30pm Day: Saturday Doors: 7:30pm Ages: 18+ / Bar with ID Price: $10
This Event Has Ended
Showtimes
10:30 pm
The River Arkansas
The River Arkansas

The River Arkansas is a band based in Colorado with members living all across the state from Boulder, Saguache, Trinidad, and Pueblo.   
"The sound of this band is absolutely at home at any mountain festival, but don't assume it to be another one-trick folk pony. No way. This'll play in the city." -Stubborn Sounds
Mike Clark is a Colorado native living on the banks of the Arkansas River in Pueblo. In the winter of 2014 he penned a collection of songs about heartbreak, love, and escaping the clutches of day-to-day society. The following spring, Clark decided to make that collection into a record.  By good fortune Macon Terry, a bass player and good friend of Clark's happened to be in the neighborhood the day the studio was booked for recording. Though Terry arrived not knowing any of the songs, what they captured was the beginning of something great.  Later they would add drums, violin, and piano. The band has traveled the midwest, south, and western United States as well as playing shows all across Colorado delivering their distinctive mixture of Country, Blues, Folk and Americana.  
Whippoorwill

"Masterful at containing the true dynamic nature of emotions. At once, sad and joyful, yearning and fulfilled. Which element stands out strongest depends on your mood. This is beautiful, masterfully crafted, skillfully performed music.." HEY REVERB
Staci Foster, Tobias Bank (Papagoya, Von Stomper), and Alysia Kraft (Patti Fiasco) are on the same wavelength of intentionality. Catharsis is the point of the songs but the tools to get there vary. With Bank on drums, Foster swapping between guitar, harmonica, and banjo, and Kraft playing electric guitar, they're in their element with raw, authentic, stripped-down performances that nod to icons Neil Young and Lucinda Williams. There is spirituality steeped in the country backdrops they write from and a deep reverence for the landscapes that raised them. A balance of grace and grit is written as much into their worldview as their songs. 
Recorded at GPM Studio in Fort Collins and co-produced by Tallgrass, their debut album contains six- stick-to-heart tracks that earned them 2016 nominations for Wyoming Public Radio and the Colorado Playlists' Best Albums of the Year. Culture Trip named them to the female edition of 50 Musicians You Need to Know from Each State. In their first ten months as a band, they've shared stages with Lydia Loveless, Colin Hay, and Old Crow Medicine Show, and will perform at this year's Treefort Music Festival.
Willy Tea Taylor


Willy Tea Taylor is a father, brother, and son. His remarkable ability to sing about profound subjects in a simple way makes his songs a great place to lose yourself. Much of that comes from his upbringing.
Willy grew up surrounded by rolling hills and horses in the small town of Oakdale, California. Known as the "Cowboy Capital of the World" for breeding so many world champion rodeo cowboys, Oakdale is still Willy's home and the setting for many of his songs.
Despite coming from a long line of cattlemen – his grandfather Walt was one of the most respected of his generation – Willy's first love was baseball. As a catcher, he had a gift for the nuances of calling a game from behind the plate. When a knee injury ended his ability to catch, Willy turned his attention to music.
At the age of 18, a discerning and intimate set by Greg Brown at the Strawberry Music Festival inspired Willy to pursue life as a folk singer. Strawberry would play an integral role in Willy's development as a musician, going from spectator to stagehand, to performer. He made his main stage debut with his band the Good Luck Thrift Store Outfit at the 2009 festival. In 2015, Willy made his solo debut on the main stage. Willy has charmed fans at some of the best festivals in the country.
Willy calls John Hartford, Roscoe Holcomb, Bob Dylan, KISS, Weird Al Yankovic and Willie Nelson his biggest influences, but is always quick to advocate for his favorite contemporary songwriters which include Tom VandenAvond, Nathan Moore, and his Good Luck partner in crime, Chris Doud. He and VandenAvond have travelled the country together on a series of tours they call "Searchin' for Guy Clark's Kitchen" where each evening's show is just a precursor to an endless quest for the kind of serene late night scene depicted in the cult classic documentary Heartworn Highways.
On his new release Knuckleball Prime, Willy received support from greats like Benmont Tench (Tom Petty & the Heartbreakers), Greg Leisz (Bruce Springsteen, Eric Clapton), and Gabe Witcher and Noam Pikelny of the Punch Brothers. Of the album's title, Taylor says "most baseball players peak in their twenties, but knuckleball pitchers tend to blossom in their late thirties and early forties. I'm staring down my knuckleball prime."
Led by producer Michael Witcher, the songs on Knuckleball Prime are arranged and accompanied magnificently by a first rate team of musicians and engineers. If you're a fan of well-written lyrics, alluring melodies, and a voice that ties them together with emotion as deep as the artist's own roots, you'll savor Knuckleball Prime, and just about anything else Willy Tea Taylor has ever done.