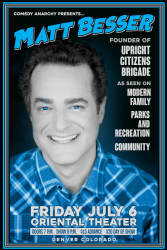 Comedy Anarchy presents:
Matt Besser
Time: 8:00pm Day: Friday Doors: 7:00pm Ages: 18+ / Bar with ID Price: $15 - $100
This Event Has Ended
Raised a proud Razorback in Little Rock, Arkansas, Matt Besser attended Amherst College where he learned how to collect CDs. After graduating, Matt toured the Midwest doing stand-up, while taking improvisation direction from Del Close at Chicago's Improv Olympic Theater. In Chicago in 1991, he was a founding member of the sketch group Upright Citizens Brigade, and with them he has performed and written such stage shows as "Saigon Suicide Squad" winner of Best Sketch at 1996 U.S. Comedy Arts Festival in Aspen. Besser's stand up albums include: "May I Help You Dumbass?" , and "Woo Pig Sooie!", and "The 6 Most Important Sets in the History of Standup". As an improviser he was a member of Chicago's "The Family" and is forever a member of "Asssscat" the UCB Theater's long-running flagship improv show.
In 1996 the UCB moved to NYC and produced their sketch show "Upright Citizens Brigade" for three seasons ('98 – 2000) on Comedy Central. In fall of 2005 the UCB premiered their improv show "Asssscat: Improv" on Bravo.
With the success of their tv shows, the UCB opened their own comedy theater and improv school which operates two theaters in NYC, and starting this summer, two in LA.
After the UCB tv show , Matt teamed up with Method Man & Redman to create and perform in a hidden camera show on MTV called "Stung". He was creator and star of "Crossballs" which ran 23 episodes on Comedy Central; "This Show Will Get You High" on Comedy Central; and also created and starred in "The Very Funny Show" for TBS.com. Besser has guest starred is such sitcoms as "Parks & Recreation", "Modern Family", "New Girl", "Children's Hospital"; "Bernie Mac Show", "Frasier", "The Millers"; "Drunk History", "Comedy Bang Bang", and featured in the movies: "Freak Dance", "Year One", "Walk Hard: the Dewey Cox Story", "Drill Bit Taylor"; "The TV Set", "Bad Teacher", "Wild Girls Gone", Sundance Film Festival favorite "Junebug"; and co-star of zombie western "Wanted: Undead or Alive".
Along with Ian Roberts and Matt Walsh, he is the author of "The Upright Citizens Brigade Comedy Improvisation Manual". He wrote & co-directed the film musical "Freak Dance".
Matt Besser has most recently worked on…
Recently Released
The UCB Show on Seeso – season 2 of a comedy variety show featuring the best acts of the year from the UCB Theaters.
Continuously In Production
improv4humans with Matt Besser on Earwolf – comedy podcast with the best improvisers in the universe featuring such segments as Crap-On-Youtube, Case Closed, What The Hell Is Going On, and collaborations with music guests.
Besser vs. Audience on Earwolf's Howl.FM – Matt Besser works the crowd asking them questions and survey with topics both big and small, with the goal of both making them laugh and challenging their beliefs.
Produced & Available
Besser Breaks the Record on Seeso – Matt Besser's most recent standup special (2016) had him smashing comedy world records, while in confrontations with crossword puzzle enthusiasts and Soviet alternative comedians.
Andy Richter's Home for the Holidays on Seeso– Andy hosts a variety show at his home with his family and celebrity guests where they teach you the correct ways to celebrate Christmas. Featuring Matt Besser as Bjork.
Thank You Del: the Story of the Del Close Marathon on iTunes, Google Play, Amazon Video, Vudu, Microsoft Movies.
– documentary about the godfather of long form improv produced by the UCB.
Twittering at http://twitter.com/MattBesser
posting nude photos at www.MattBesser.com