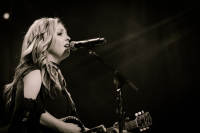 Sunny Sweeney
w/ RL Cole
Time: 8:00pm Day: Saturday Doors: 7:00pm Ages: All Ages / Bar with ID Price: $15 - $150
This Event Has Ended
VIP Ticket includes:
Meet & Greet, Laminate, VIP koozie, signed CD, and a ticket to the show.
Sunny Sweeny
True to her Texas honky-tonk roots, Sunny Sweeney has never been a singer of what you'd call "soft" country songs — the kind you might turn to for easy comfort and or quiet Sunday afternoons with the family. Hell, you can tell just by the titles of her first two albums — Heartbreaker's Hall of Fame and Concrete — that she reaches straight for the hard stuff. So when this woman sees fit to name her third album Provoked, you better believe she's not about to start playing coy now. No, this is where the real hurtin' starts, and Sweeney's showing no mercy … least of all to herself. 

"I've been through a lot in the last few years, good and bad, and this record is me for the first time actually coming to grips with the mistakes that I've made," says Sweeney. "And I have made a lot of mistakes. I was hell-bent that this album was going to tell that story."

The recurring themes in that story should be familiar to anyone well versed in the classic country cannon: temptation, cheating, adultery, divorce, broken hearts, and — sometimes — carrying on despite all of the above. On Provoked—produced by Luke Wooten—Sweeney's singing it all from first-hand experience, and she's not always singing from the perspective of an innocent victim, either. But as her song "Second Guessing" makes clear early on in the album's storyline, she's done making excuses, both for the damage done and for holding herself back from embracing a second chance at love and happiness. The end result may surprise listeners as much as it did Sweeney herself.