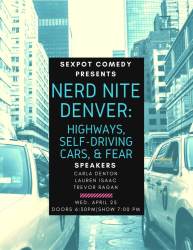 Sexpot Comedy Presents
Nerd Nite Denver
Highways & Self Driving Cars
Time: 7:00pm Day: Wednesday Doors: 6:30pm Ages: 18+ / Bar with ID Price: $6
This Event Has Ended
Nerd Nite: Highways and Self-Driving Cars
If you are a fan of TED talks, the Discovery Channel, Wikipedia binges, and drinking, Nerd Nite Denver is the show for you!
**Online ticket sales end (or sell out) at 6:00pm on the day of the show but plenty are still available at the door.** 
LINEUP
Hitting the Road: The US Interstate Highway System by Carla Denton
Learn about an amazing thing that we all take for granted – The America highway system. From its especially rocky origins, to what we use today, Carla Denton will go over all the facts you need to entertain everyone on your next road trip.
Driverless Vehicles: Who's Really in Control by Lauren Isaac
Self-driving cars can potentially change so much in our society: from drunk driving, to texting while driving. Are we really going to be safer? Or will they do harm than good? Transportation enthusiast Lauren Isaac tells you what you need to know about this new technology.
Fear: Where It Comes From, How it Works, and What We Can Do With It – by Trevor Ragan
The science of fear and everything you need to know about it. From why we feel it to how it affects our body, Trevor Ragan knows how it works and how you can go against it in situations where there isn't any danger.
GRAB YOUR TICKETS
When: Wednesday, April 25 – doors at 6:30pm, show at 7:00pm
Where: The Oriental Theater
Tickets: $6 online, $10 at the door – 18+
As always, a huge thanks to our leading sponsor Sexpot Comedy and to our photography partners in crime From the Hip Photo!
SUMMARY
Nerd Nite is a bar-based monthly lecture series that takes place in nearly 100 cities worldwide. Think, drink, and hang out with fellow Mile High nerds at Nerd Nite Denver, Wednesday, April 25 at The Oriental Theater!
This month, Carla Denton takes us on a road trip to learn about highways, Lauren Isaac drives us through the maze of driverless cars, and Trevor Ragan talks about nothing but fear itself!
When: Wednesday, April 25 - doors at 6:30pm, show at 7pm
Where: The Oriental Theater
Tickets: $6 online, $10 at the door
More info: nerdnitedenver.com