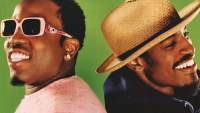 95.7 "The Party" Presents:
SF1: A Nite of "Outkast"
with: Cicely O'Kain & Been Rogue
A Musical Tribute to "OUTKAST" by all artists....
Time: 8:00pm Day: Friday Doors: 7:00pm Ages: 18+ / Bar with ID Price: $14
This Event Has Ended
SF1

SF1 (Shane Franklin)  is an accomplished emcee, drummer, music producer, songwriter dancer and actor. He is a Berklee College of Music alumni and Grammy Award considered artist that hails from Denver, Colorado. When performing live, a skilled ensemble of talented musicians, "The Crew" accompanies him on stage. Receiving many accolades, including three Westword Magazine Music Awards in the hip-hop category, SF1 and The Crew are the first and only hip-hop act to play major league baseball's Coors Field.
His singles "Autopilot", "Rhapsody", "Ride" and most recently "Honest" have received airplay with iHeart Radio Stations. SF1 has shared stages with the likes of national recording artist, Jake Miller, Robert Delong, Jurassic 5, Big Data, Lupe Fiasco and the legendary KRS-One.

A hip-hop artist that refuses to be put in a box. His genuine love for music instrumentation is evident in his ability to effortlessly infuse jazz, Afro-Cuban, middle eastern, pop and rock within his energetic sound and compelling live performances.
Awards
Westword's "Best Hip Hop Group" 2016
Westword's "Best Hip Hop Group" 2015
Westword's Best male Hip Hop MC 2014
Nominated for Westword's "Best Male Hip Hop MC" 2014
KUSA 9 News' "Top 5 Colorado Bands to Check Out"
Named "Colorado's Next Break Out Band" by Next Big Sound
Semi Finals of Westword's "Best of the West Competition" 2012
Battle of the Bands winner 2010
Current Location
Been Rogue

Been RoGue...Denver MC (born Darian Minter), gradually came into his own and established himself as a successful emcee over the past several years.  With a balance of toughness and smoothness, Been has become a live mainstay within the Denver music community and among his musical peers.   This preceded by constant studio activity, has resulted in solo and collaborative efforts with other notable artists throughout the city.  "Not A Movement But A Lifestyle", and "Love God And Get Money", Been's two EP's, have both picked up additional fans nationally, because of the social messages that mix things up within his music.