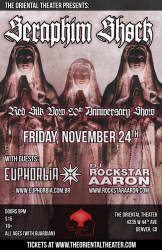 Seraphim Shock - Red Silk Vow 20th Anniversary Show!
with special guests: Euphorbia (from Brazil) and Dj Rockstar Aaron.
Time: 9:00pm Day: Friday Doors: 8:00pm Ages: 18+ / Bar with ID Price: $15
This Event Has Ended
Showtimes
9:00 pm
DJ Rockstar Aaron
Seraphim Shock

***NOTE*** - Please note this show is $22.00 at door, $24.00 credit
Having once been described as the "The Ultimate Halloween Band", Seraphim Shock is the brainchild of singer/songwriter Charles Edward. In a world full of manufactured bands Seraphim stands proud with its middle finger raised. From the band's early Goth roots to the Hard Rock'n Roll hybrid that it is today, Seraphim Shock continues to captivate people from all walks of life with its infectious hooks and dark overtones. The quality of S.S. works speaks for itself and one needs only to look at the myriad of positive reviews garnered over the years. Originally based out of Denver, CO, the project has relocated to Los Angeles, CA.

Best known for its stage presence and Charles Edward's vocal croonings, Seraphim Shock arrived on the national scene in November of '97 with the release of the critically-acclaimed "Red Silk Vow". The video single "After Dark" claimed top honors in three major film festivals, including the prestigious "Leigh Gipper" award at the Philadelphia International Film Festival. Ignoring trends and so-called "industry experts", S.S. spent the next two years tearing up the underground, spending five months on the road crushing audiences nationwide with its over the top stage show. During this time the band also released the cult favorite "Nightmares for the Banished" (5/99) and the Succubus Club single "Prey" (2/2000).

S.S. spent 2000 and 2001 bringing its complete theatrical production (lights, risers, pyrotechnics, dancers) to a select few national events. It was the first time those outside of Denver had witnessed the S.S. mayhem full-scale. These events helped take the band to a new level and continued the development of a cult following on the road that is virtually unheard of for an unsigned act. All of this was done without advertising or distribution but by word of mouth and reputation. In fact, ticket sales in select markets made Seraphim Shock one of the most highly sought-after alternative acts in America.

In the spring of 2002 recording on a new album was put on hold when S.S. was offered the middle slot on The Electric Hellfire Club's "Down With The Devil" Tour. With an additional midwest/east coast tour later that summer, the fall of 2002 brought a pivotal point in the history of Seraphim. Faced with the pressure of releasing new product, driving force Charles Edward opted to take a 15 month hiatus to write, record and re-emerge with a new touring line-up.

2004 brought the highly anticipated "Halloween Sex N Vegas" disc. HSV's raw, stripped down, "Sex, Guns & Rock N Roll" attitude brought with it rave reviews, a wave of new fans and select headlining slots all over America that put the band back at the forefront of the national underground.

After the success of subsequent tours that followed the HSV release (Halloween Sex N Vegas '04, White Trash Satan '05, All American Sinner '06) Charles chose to step away from Seraphim to pursue a number of opportunities outside the project. During the next 3 years he would enter the world of competitive Bodybuilding, Television, Theatre and Film. During this time he would record the full length disc "Ancient Delirium" as the vocalist for artist Carol Tatum (Angels of Venice) and renowned Producer Florian Ammon (Van Halen, U2, Elton John, Rammstein). In this time, the building of his own recording studio enabled him to further step into the role of songwriter/producer for other artists while penning the next Seraphim album.

After 3 years of silence Seraphim Shock returned in May of 2010 bringing the release of the long-awaited 4th album "Black Heart Revival". A work that sees Charles Edward come full circle as an artist, capturing the depth and feel of previous Seraphim works while expanding upon the sonic landscape with superior production. A collection of songs from the gut that proves passionate songwriting is timeless and does not adhere to fads. Once again, Seraphim Shock stood poised to unleash its vision upon the music world and take its rightful place among the artists who will not fade but become stronger as years go by.

In 2017...Charles Edward and Seraphim Shock reunite to celebrate the 20th Anniversary of their landmark first disc, "Red Silk Vow", for a one off show in Denver, with other tour dates possibly pending.  Keep your eyes peeled for other dates!

Euphorbia

In the beginning of the millennia, the audio technology was revolutionized in a way similar to the 80's in regards to the rise of the digital world.
Born in 1985, Cirion Barboza lived in a small Brazilian city called Canoas during his childhood. Having limited access to music classes, Cirion found his musical calling in the most traditional way: learning from his father. Keyboards, guitars and accordions were always there when needed.
Ulisses Righi was born in 1988, in the capital city of the state of Rio Grande do Sul, Brazil, in a relatively cosmopolitan family. Technology was not only seen as a tool, but as a hobby and a lifestyle. Even though having very limited access to musical instruments during his childhood, by age twelve Ulisses was already sequencing MIDI files and starting to learn about music prodution.
Both met by chance, started being friends and, why not? – formed an alternative rock band. The comes and goes that middle-class Brazilian teenagers can experience living the "musician lifestyle concept" naturally brought new ideas and, with them, new technologies.
In the beginning of the 2000's, the world was going through the definitive moment that brought tons of analog hard synths to the 0's and 1's language. It was the era of the virtual synthesizers. While dozens of people argued about the authenticity of such technology, others just saw that as an opportunity unachievable otherwise: the electronic music.
It was already 2005 when the decision was made: Euphorbia. Two minds exchanging ideas. The change of interface was evident: there would be no rehearsals, no meetings, no discussions. Just creation, dynamism and technology. The internet enabled a musical project that existed 24 hours a day, from home studio to home studio, cutting down on costs and never-ending studio sessions.
However, as anything that has a beginning, there was no easy access to teachers or training; free, online tutorial videos such as the thousands we have today would take years to show up. That was one of the most important factors for how Euphorbia was born: through trial and error and happy accidents. Audio and computer resources were still expensive, being an obstacle to overwhelm. As the years went by, tools evolved in such a way that they became universally accessible, allowing a whole studio to fit inside a bag. That is how Euphorbia thrived.
Euphorbia is about Dialectic, about invisible signals, survival of the fittest and the fear of the unknown. Euphorbia is about allowing the body to express itself without any bounds, while still in a world of fetters and failure. Euphorbia is about breathing the air with no filters. Euphorbia is about having no devotion.
Cirion Barboza is also the founder of [maschine], an electro-project.
DJ Rockstar Aaron

DJ Rockstar Aaron is anything but typical. In Denver he is the first call for high profile club parties, corporate functions, private events and weddings. As an open format DJ known to play everything from Big Room Club Bangers at his monthly Las Vegas residency Piranha Nightclub to crowd pleasing Party Hits. DJ Rockstar Aaron brings an impressive knowledge of diverse musical genres and has become a recognizable image for any event in any city.

An unconventional image with superb DJ skills explains why companies like Sage Hospitality, Coke-a-Cola, Hard Rock Café, InnovAge, Intel, Kaiser Permanente, MAC Cosmetics, SGI, Sony, Tropicana Las Vegas, Vitaminwater, Wal-Mart, Westword, Rivet Software and countless others have booked DJ Rockstar Aaron.

No stranger to nightclubs, lounges, weddings, corporate functions, tour support, fashion shows, festivals, holiday parties, happy hours, in-store events, and pride fests having spun at them all including Denver's legendary Rockbar. His DJ style is infectious. DJ Rockstar Aaron is experienced in keeping people dancing all night in every environment.