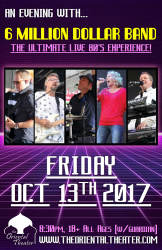 An evening with...
6 Million Dollar Band - The Ultimate Live 80's Experience!
Time: 8:30pm Day: Friday Doors: 7:30pm Ages: 18+ / Bar with ID Price: $14
This Event Has Ended
Showtimes
8:30 pm
6 Million Dollar Band
6 Million Dollar Band
The Six Million Dollar Band (6MDB to their fans) delivers high-energy 80s New Wave music using a combination of new and old technology.  Five keyboards complement the guitar, drum and bass rhythm section, producing the classic sounds 80s fans love to hear.  Vintage 80s synths deliver album-perfect sound.  Tears for Fears, Duran Duran, Simple Minds, Depeche Mode and more are recreated faithfully and performed with the same energy as the original acts.
The members of 6MDB bring well-seasoned skills, each having played professionally for nearly two decades.  Blazing guitar solos, four part vocal harmonies, and genuine enthusiasm for the music complement the already unbeatable sound that the band delivers.  Thanks to their professionalism both on and off the stage, 6MDB has quickly become an in-demand act for large venues and private events alike.
See them live and discover why their audience describes them as "The ultimate 80s experience!"