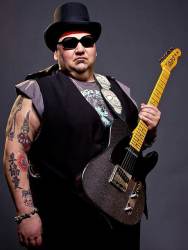 103.5 The Fox's Sterictly Blues Presents:
Popa Chubby (New York Guitar Great...)
with: Justus League
Time: 8:00pm Day: Saturday Doors: 7:00pm Ages: 18+ / Bar with ID Price: $20
This Event Has Ended
Justus League

Justus League is an American roots based band, formed in 2013 by Austin Johnson, Dean Woodward, and Sean Pyrtle. JL is an award winning band, they have been recognized as one of the best up and coming groups in the Colorado/midwest region.

JL's signature sound is characteristic of Dean Woodward's soulful vocals over funky syncopated rhythms. Sean Pyrtle's masterful bass groove guides the listener through Austin Johnson's blazing virtuosic guitar solos. JL seamlessly transitions through Motown/R&B, Latin, Jazz and even Country/Western, all with their fresh signature Blues/Rock overtone.

Despite all the members being under the age of 30, Justus League is no stranger to the spotlight. They perform an average of 180-250 dates per year, and share the stage with with top notch artists/performers such as:

Tim Renyolds (TR3)
Tab Benoit
John Lee Hooker Jr.
Beth Hart
Royal Southern Brotherhood
Devon Allman
J.D. Simo
Big & Rich
Cyril Neville
Luke Bryant
Chris Duarte
Nikki Hill
Kirk Fletcher
Jo Ann Shaw Taylor
Eric Gales
Watermelon Slim
Slash
Joe Bonnamassa
Mother Hips
John Hammond
Walter Trout
Nick Moss Band
Phillip Sayce

Austin, Sean, and Dean are all musically 2nd and even 3rd generation players in their respective families. Dean is a drum graduate of the Musicians Institute in Hollywood, CA. Sean received a Berkelee School of Music (Boston, Ma) program scholarship (2002). Austin frequents the Namm show as an artist, and was a semi-finalist (top 8 internationally) at the International Blues competition in Memphis, TN (2014).
Popa Chubby
***NOTE*** - This show is $27.00 cash at door, $29.00 credit
Twenty five years of hard rocking blues
Popa Chubby, born Ted Horowitz, has been hard rocking the blues in his fierce and soulful way for more than 25 years. Over the course of a career that dates back to 1994, he has been a force of to be reckoned with on the guitar, and his tempestuous, soulful playing has never been more powerful. An imposing figure with a shaven head, tattooed arms, a goatee and a performance style he describes as "the Stooges meets Buddy Guy, Motörhead meets Muddy Waters, and Jimi Hendrix meets Robert Johnson," Popa Chubby is an endearing character who is one of the genre's most popular figures.
His career has always been about moving forward and carving a place for himself in the imposing terrain of the music business, overcoming odds to continue growing and maturing as a creative force. He has built a constantly increasing base of fans across the world, where in many territories he is a star. A native New Yorker, Horowitz's first gigs were in the NYC punk scene as a guitarist for what he reflects was a "crazy Japanese special effects performance artist in a kimono called Screaming Mad George who had a horror-movie inspired show." Right from the start he was immersed in rock 'n' roll as theater, and learned from George and others playing CBGB's at the time that included the Ramones, the Cramps, Richard Hell, whose band, the Voidoids he joined that rock 'n' roll should be dangerous. He reflects, "Musicians like the Ramones and the Sex Pistols weren't just bands. They were a threat to society."
The Blues however was the foundation of his playing style. He recalls, "Since I'd grown up on Hendrix, Cream and Led Zeppelin, when I started playing blues in New York clubs I understood that the blues should be dangerous, too. It wasn't just from playing in punk bands. Howlin' Wolf and Muddy Waters were dangerous men. They'd cut or shoot you if they thought it was necessary, and Little Walter packed a gun and wouldn't  hesitate to use it. That danger is a real part of the Blues and I keep it alive in my music."
Popa Chubby is his own man for better or worse. He reflects, "I'm living in a wild time, and that is where the inspiration is drawn from. There are my issues, but the picture is much bigger than me and my situation. Everything is breaking down in the world. The lines are being redefined. We all need something."