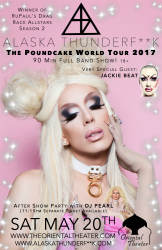 Winner of RuPaul's Drag Race Allstars Season 2...
ALASKA THUNDERF**CK - The Poundcake Tour 2017 (90 Min+ Full-Band Show!)
w/ Very Special Guest: Jackie Beat - "After Show" Hosted by: Dj Pearl (of Drag Race Season 7 - Separate ticket) *NOTE * Lower level sections & floor are STANDING ROOM ONLY! Pre-sale & On-sale dates are both online sales only.
Time: 8:00pm Day: Saturday Doors: 7:00pm Ages: 18+ / Bar with ID Price: $35 - $65
This Event Has Ended
Showtimes
9:15 pm
Alaska Thuderfuck
Alaska Thuderfuck

***NOTE*** This performance is a full 90 minute + concert...with special guest Jackie Beat.  The "After Show Party" will be hosted by RuPaul's Drag Race Season 7 runner up, Dj Pearl for a separate ticket price of $15 (unless included in a ticket package). 
1 Ticket for the concert is $32.00 (plus fees).  The Concert and After Show Party are both 18+ events (with I.D. only).  A limited "VIP w/Meet and Greet Ticket" will be available for $50 plus fees (or $65.00 plus fees, with After Show Party included).  VIP will include the concert with early show entry, a meet n greet / photo op with Alaska (only) and a signed Limited Edition poster.  The Lower theater sections and floor will be STANDING ROOM ONLY for the concert...with limited available seating in the balcony.  PRE-SALE AND ON-SALE DATES ARE BOTH ONLINE PURCHASES ONLY...NOT AT THE THEATER BOX OFFICE.
VIP PACKAGES ARE CURRENTLY SOLD OUT!!!
ALASKA THUNDERFUCK BIO
A bizarre cosmic collision propelled Alaska Thunderfuck 5000 to Earth in March 1966… and on to the fifth season of Logo TV's RuPaul's Drag Race in January 2013. Still radioactive, no one knows who or what she is yet, but no one cares, as long as she never returns to her native planet. Her age and species remain unknown to the public, but a few of her enemies claim to hold copies of her spawning record and universal passport.
After her spaceship crashed in the Matanuska Valley, a remote part of south-central Alaska, the U.S. government recovered an emaciated… make that, an emancipated alien, with a 1972 issue of Vanity Fair and a can of Tab, or that's how the story goes. Why she needed an Elmer's glue stick, no one has determined. She refuses to acknowledge it was in her possession. Few believe the wreckage was really smoldering, since magazines tend to burn, and cynics wonder if she was actually held captive in a research facility, or entertained by the night watchman until he got bored with her in the 1980s. She's supposedly on the run from officials, but everyone knows they take off their uniforms and sneak into the clubs where she performs. Some turned into groupies and hang around long after the shows are over.
A well-traveled, campy extraterrestrial does have her perks and her irritations. Transients and drifters are directed to the nearest black hole via her pre-screw-you GPS navigation, and drug-addled layabouts are allowed to create their own black holes. She promises to upload each and every one into the system. How dangerous can Thunderfuck be?
As dangerous as a black hole.
Watch this rare, magnificent being as she lights up televisions throughout the world on another of RuPaul's extravaganzas. No, you won't end up a cancer-stricken lab rat. The screen acts as a radiation shield to protect you from this renegade.
Jackie Beat

Drag superstar - JACKIE BEAT has been entertaining audiences across the U.S. and in Europe for over TWENTY-FIVE YEARS with her razor-sharp comedy and hysterical song parodies. Jackie not only warps hits by Britney Spears, Madonna, Mary J. Blige, Christina Aguilera, Cher, Lady Gaga, Katy Perry, Mariah Carey and many others, but she flawlessly sings her twisted new versions LIVE — hitting every last note.
Her hilarious music videos on YouTube are huge hits that have been seen by millions of people. Her one-woman show "Jackie Beat Is A Whole Lotta' Love" ran a record 18 months at NYC's premiere cabaret, Fez, and she returns to The Big Apple every year with her award-winning, standing-room-only holiday show as part of her SOLD OUT national holiday tour. Jackie's stand-up has been featured in comedy clubs across the country and on Comedy Central, VH-1 and MTV. Her scathing song parodies have been featured on America's Top Forty with Ryan Seacrest, The Howard Stern Show, Much Music TV, Yo on E! and PerezHilton.com.
She has appeared on many TV shows such as "Sex and the City" and in several movies including "Flawless" with Robert DeNiro, the festival hit "Wigstock The Movie" and the camp cult horror favorite "Gingerdead Man 3: Saturday Night Cleaver." Jackie has also been in many off-Broadway productions, performed on countless cruises ships, toured with Roseanne Barr as her opening act (including a 7 week run at the New York New York in Las Vegas!), has enjoyed a sold-out 8-week run in Provincetown in summers past, and is lead singer of the popular electro-rock band Dirty Sanchez, who toured with My Life With The Thrill Kill Kult. Their debut CD was released on Hypnotic Records and their music was featured on the campy NBC soap opera, "Passions."
Jackie Beat is also a proud Writers Guild member who has worked on The WB sketch comedy show "Hype!," the Sci-Fi Channel original series "Tripping The Rift," and E Entertainment TV's "Fashion Police." Jackie wrote for Roseanne Barr on her Comedy Central Roast, for host Kate Flannery on "Stand-up in Stilettos," on Ross Mathews' series "Hello Ross" for E and on his debut book, "Man-Up!" In addition, Jackie has written special material for the likes of Rosie O'Donnell, Margaret Cho, Sandra Bernhard, Patricia Arquette, Jennifer Coolidge, Elvira and more. Jackie has also written the plays "Double Wide Female," "Scream Teen Scream!" and "Whatever Happened To Busty Jane?" along with quite a few brilliant (but ahead of their time?) motion picture screenplays and TV pilots. Jackie has also contributed to countless magazines, was a regular columnist for Frontiers Magazine and one of US Magazine's Fashion Police top cops.
Jackie's latest venture is impersonating her "spirit animal" — the one and only Bea Arthur — in both the stage version of The Golden Girlz Live (35 sold-out shows!) and as part of The MisMatch Game at the LA Gay & Lesbian Center to benefit homeless LGBT youth.
Jackie currently lives in Highland Park, California with her furry children: Miss Toni & Darlin'.
Whether you're looking for one or two show-stopping, jaw-dropping numbers — or a night of music and comedy — Jackie Beat is your "girl!"