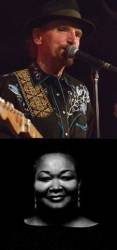 A Valentine's Day Celebration with...
Chris Daniels and the Kings & The Hazel Miller Band
(Dual Headline Show with full sets!)
Time: 8:00pm Day: Saturday Doors: 7:00pm Ages: All Ages with Parent or Guardian 21+ Price: $20
This Event Has Ended
Showtimes
9:30 pm
Chris Daniels and the Kings
8:00 pm
Hazel Miller Band
Chris Daniels and the Kings

Chris Daniels & the Kings have toured over two continents and have been asked to appear in such diverse places as South America, Curacao, Japan, and all over Europe. Chris has appeared with the B.B. King, Uncle Cracker, Blues Traveler, The Neville Brothers, Delbert McClinton, Sister Hazel, Sheryl Crow, Robert Cray, Taj Mahal, Al Kooper, Bonnie Raitt, Ziggy Marley, The Fixx, to name only a few. They are headliners on international festivals, like Ribs & Blues Festival with their buddies B-, at Marktrock, Berchem Blues, and the Lokeren festivals in Belgium, and the Kings have toured as the back up band for Sonny Landreth, David Bromberg, Al Kooper, Bo Diddly, Francine Reed and Dutch guitarist Jan Rijbroek inplaces like Paris and Amsterdam, and for Bonnie Raitt, members of Little Feat, and Was Not Was at the Roxey in LA to name only a few they have worked with in the States. Die hard fans from Italy to Holland rocked with this remarkable artist who has appeared on HDnet all High definition TV, VH-1, , Much Music/Canada, NIppon TV/Japan, Crooked River Grove, , and on Onhe Filter, , , Paris , and Brussles 1, in Europe, and on Swing TV in Buenos Ares, Argentina.
The Kings Are:
Chris Daniels, rhythm guitar, vocals Colin "Bones" Jones, lead guitar Randy Amen, drums, vocals Kevin "Bro" Lege, bass, vocals Darryl "Doody" Abrahamson, trumpet, vocals Jim Waddell, alto, tenor sax, flute, vocals
History and Bio Chris Daniels: is not related to Charlie or Jack or Bill — though often asked that question. Starting as a 17 year old songwriter and guitarist back in the 70s when he played with David Johansen, (before the New York Dolls) and later with Russell Smith (after The Rhythm Aces), Chris has preformed thousands of shows, touring 40 out of every 52 weeks with his current band Chris Daniels & the Kings for 25 years. He has worked making records and performing with some of the most respected musicians in the business including Sonny Landreth, Sam Bush, Bela Fleck, David Bromberg, Al Kooper, Bill Payne, and Don Was to name only a few. He was the founder of the Telluride After Hours Jam playing that festival on and off for ten years beginning in 1975.
Professor: Chris Daniels is an Assistant Professor at the College of Arts & Media, University of Colorado Denver campus. He began teaching songwriting and guitar at Arapahoe Community College in 2001. In 2007 he was awarded the "Adjunct Professor of The Year" award from that college. That same year Chris was given the honor of a position as an Assistant Professor at the University of Colorado Denver teaching music business.
Guitarist and band leader: Chris has served as musical director with his band when the Kings backed Francine Reed, The Coaster, Drifters, Platters, Bo Diddly, Was Not Was, Mary Wilson, Bonnie Raitt, Percy Sledge, solo members of Little Feat, Sam Bush, John Cowan and many others.
Singer: Chris has been featured on commercials all across the US and Canada for McDonalds, Ford, Coors Beer, Village Inn and many more.
Songwriter: he's worked with Gary Nicholson, Al Kooper and Bill Payne to name only a few. His songs have appeared on albums by Hazel Miller, Tom Wassinger and David Bromberg to name only a few.
Record Producer: he's known for several CDs including the award winning Hazel Miller recording, "", featuring standards and guests like famed trumpeter Ron Miles.
Music for TV: Chris has had his recordings used for everything from regional TV broadcasts, the Friday morning news theme for Channel 9 News to national shows like "men In Tress" on the television network.
Executive Director: Chris served as the head of the world's second largest folk music school and concert organization, Swallow Hill Music Association for 5 years during which time the organization won both the Governor's Award and the Mayor's Award for Excellence in the Arts.
Chris & the Kings played their first show on March 14, 1984. Chris has toured Europe 16 times including the tour Chris just finished in June 2008 and played in the States from South Carolina to Seattle, New York City to LA. The seven piece band, called "funky-blues" by the Europeans, is an all out "horn band" celebrating 25 years of making great R&B, funk, "jump blues" and rock n' roll. They have been compared to Little Feat, "John Hiatt meets Tower of Power" and "Keb Mo with horns."
Daniels12th CD "We'll Meet Again" is a collaboration between his US band The Kings and his European band BMaster and it was recorded live in Leiden, The Netherlands. The CD came out in November 2009 and in January 2010 in Europe to great reviews in the Dutch press.
In 1991 the band made a name for themselves touring Europe: playing for the Queen of Holland at the 50th Year VE Day Celebration and at Europe's famous Parkpop Rock Festival for 450,000. They have headlined festivals from the Mediterranean to the North Sea. They have had number one records on Holland's number one rock show, "Countdown Café" and had front-page success with cover articles in De Telegraph and De Standard in Amsterdam and Brussels.
Their 2004 CD, " The " was released in The States, Europe, Japan and is also available in South America on Casino Royal. That CD won awards for Best Record of 2004 from Happi Skratch and featured a remarkable list of "special guests" including Sonny Landreth, Sam Bush, Bill Payne, Mollie O'Brien, Hazel Miler, Ritchie Furay, Tony Furtado, Steve Riley, Sam Broussard plus many many more. It is available in Benelux on Music & Words, in Japan on Buffalo Records, home of Hot Cub of Cow Town and the Asylum Street Spankers, and on in Germany, Switzerland and Austria. Tracks from that CD and "Louie Louie" are featured on compilations in Buenos Ares, Argentina. Louie Louie, dedicated to famed Dutch radio personality Big Al, was an award winning swing tribute to the music of Louie Jordan, Louie Prima, and Louie Armstrong. Now in its fifth pressing that CD was released in the States and oversees in 1999 (by Germany) and has won several including "Best Design" from the national Design Association.
Hazel Miller Band

Hazel Miller is not just a great singer; "She is a force of nature!" quotes the Rocky Mountain News. Her voice has been called "stunning, moving and powerful." Hazel has been a sought after performer in Colorado for the past 30 years.  The Hazel Miller Band was formed more than 2 decades ago.  HMB performs an eclectic blend of Jazz, R&B, Blues and original music. Hazel Miller Band's music is designed to make the audience dance and sing-along.  They play music that excites and involves the listener.   
The first highlight of 2015 was Ms. Miller's singing of the national anthem at the inauguration of Colorado Governor John Hickenlooper, January, 13, 2015.  Later on that night the Governor's Inaugural Concert featured the Lumineers, String Cheese Incident and Big Head Todd and the Monsters with Ms. Miller.  Ms. Miller performed at the FIS Alpine Ski Championships in Beaver Creek, Colorado on February 15,, 2015; with an estimated international television audience of 180,000,000 viewers.  Ms. Miller has been chosen to record a welcome greeting for visitors taking the trains to the main terminal at Denver International Airport. 
Winter of 2014 Ms. Miller toured with Big Head Todd and the Monsters.  They toured the entire country with great response from audiences. Ms. Miller had a great summer, 2014, of festival appearances in Grand Junction, Del Norte, Pagosa Springs, Frisco, Breckenridge, Erie, Boulder, Telluride, Mississippi, New Mexico and Wyoming.  HMB has appeared many times at the historic Red Rocks Amphitheater as the head liner and as an opener.  Ms. Miller has appeared as a special guest of Big Head Todd and the Monsters for more than 19 years.  This year marks HMB's second appearance as the opener for The Botanic Gardens Music Series.  Summer 2013 they opened for Al Green and 2014 had them opening for Michael Mc Donald at the Botanic Gardens in Denver.
Ms. Miller's music can be heard on many local radio stations KOA, KBCO, KUVO, KRFC, KOTO and KCNU.  Nationally, Sirius Radio and XM Radio are playing her music on the "Real Jazz" and "B. B. King's" Blues stations.  Mark Ruffin, on "Real Jazz" XM Radio added Ms. Miller to the lineup fall of 2010 and she continues to be a requested performer on radio stations nationally for example:  Martha's Vineyard, Charlotte, Miami and Chicago.   Ms. Miller sang on 6 tracks of the hit 2014 CD Blues Masters 3.  This CD featured Mickey Thomas from Jefferson Starship and Tim Tucker, executive producer and lead guitarist on the CD.  The reviews said this about Ms. Miller's vocal performance: "Miller's vocals would rival Koko Taylor".  The CD is recognized as The Blues CD sleep of 2014.