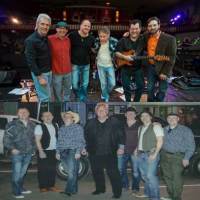 2nd Annual Show!!!
The Long Run (Eagles Tribute) and My Blue Sky (Allman Bros. Tribute)
Time: 7:30pm Day: Friday Doors: 6:45pm Ages: All Ages with Parent or Guardian 21+ Price: $18
This Event Has Ended
The Long Run

The Long Run, "Colorado's Tribute to The Eagles" was born from 5 of some of the busiest musicians on Colorado's Front Range.  Laden with 4 and 5 part harmonies, They reproduce the Eagles' hits with an organic 70's sound, accurate lead guitarists, multi-instrumentalists, and a lead-singing drummer. The Long Run have played many of Denver's major festivals, Headlined Casinos and Fairs in UT, WY, and New Mexico, and appeared live on 'The Deuce' Channel 2 morning show in Denver- ALL in their first 2 years of playing together.  The members of the band are: Mark Trippensee - Drums, Percussion, Acoustic Guitar, Vocals, Adam Rey - Lead Guitar, Acoustic Guitar, Talk-Box, Vocals, Steve Weinmeister - Lead Guitar, Acoustic Guitar, Mandolin, Piano, Vocals
Bil Hopkins; Bass Guitar, Vocals & Reece Morse - Piano, Keyboards, Acoustic Guitar, Saxaphone, Vocals
My Blue Sky

"Honoring the music of the Allman Brothers family of bands." Award winning My Blue Sky... 
...is comprised of 7 experienced Colorado musicians that all share the passion and love of the music of the 
Allman Brothers Band. The Allman Brothers Band have a unique blend of southern rock, blues, and jazz 
that have inspired musicians and fans for decades. Their music and performances have created 
memories for everyone that have stood the test of time. It is in that spirit that My Blue Sky honors their 
music. And they honor it well...My Blue Sky has placed First two years in a row (2014 and 2015) at 
Leftapalooza the Mile High Tribute Band Competition, and they have earned the support and approval 
of Gregg Allman himself. Westword recently honored My Blue Sky in their list of Top Ten Tribute Bands 
in Colorado.
In November, 2016 My Blue Sky released their self-titled EP of original music further strengthening their 
ever-expanding catalog of music to share with audiences.