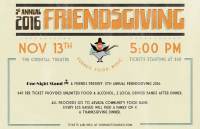 One Night Stand presents:
Friendsgiving 2016
Time: 5:00pm Day: Sunday Ages: 21+ Ages Price: $40
This Event Has Ended
One Night Stand presents our favorite event of the year; Friendsgiving returns for the 5th iteration.
Friendsgiving at its core is a gathering of people who share a passion for food, community, and giving. The first event was in 2012 and was a humble affair consisting of twenty people and a fried turkey. Through this event we experienced something special. The uniquely satisfying feeling of sharing a communal table and feast with a once in a lifetime group of people. We were left full in our hearts, bellies, and minds. Together our core group of Friendsgiving enthusiasts started forming a vision for what this gathering could be. We wanted aggressive expansion in all aspects of the party. The food would get tastier, engaging in different preparations and experiments. The drinks would diversify; playing with infusions, mulled wines, and kegged cocktails. The group would get larger with more invitees and a richer community. Over the last four years we have made this vision come true. Creating an event that is truly unique and enriching. This year that aggressive expansion continues. 
After last year's leap to an ancillary venue, the gorgeous Oriental Theatre, we had successfully made good on our plans of expansion. We fed nearly 150 people some of the most delicious Thanksgiving food Denver had ever seen. Again, our hearts were warmed and we felt blessed to be a part of such a wonderful group of friends. This year, though, we are striving to extend that feeling outside of the walls of the event. To be able to share the power of our group and help some people who are in need. 
In the past, we would simply collect as much money as we could to cover our expenses and give by providing food and drink for the party. That won't change, but in addition to that we are asking local businesses to support us through donations. Keeping our costs low and allowing us to donate all of the proceeds to the Arvada Community Food Bank. They are a wonderful organization who enrich their community by providing the most basic of needs, food. Hunger in America is still a real, tragic issue. It's something that people don't talk about but our neighbors, coworkers, and strangers on the street could be unsure of where their next meals are coming from. We can use Friendsgiving to make a small, but important impact on this issue. For every ticket we sell, we can provide a family of four a much needed Thanksgiving meal, and spread some humanity and love to our community. Friendsgiving at its heart is a feast, and now while you feast, you can know that you not only had one of the best Thanksgiving meals of your life, but you made a legitimate difference in someone lives. 
This year's event will be unprecedented. Offering a bevy of delights including all the classics: Friend Turkey, Turducken, Mashers, Turkey Confit, Brie Fondue, Cranberry sauce. While also including some new delights. There will be a full bar offering signature cocktails, beer on tap, and wines. We are also happy to announce that we will be utilizing the Oriental Theatre stage to provide a live music element after the dinner has concluded. Please join us for a night of revelry and community. Tickets can be purchased for 40 dollars a head at http://www.onenightstandco.com/store/c1/Featured_Products.html