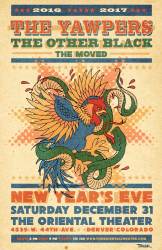 The Yawpers
w/ The Other Black, The Moved and Evan Holm & The Restless Ones
Time: 8:30pm Day: Saturday Doors: 7:30pm Ages: 18+ / Bar with ID Price: $10 - $35
This Event Has Ended
TICKETS ARE AVAILABLE AT THE DOOR!
(ONLINE SALES ARE TURNED OFF AT 6:30PM)
The Oriental Theater NYE BASH
PARTY BUS Tickets available for only $10!!
Party bus includes:  Pick up and return to Illegal Pete's on South Broadway  Bus will run from 7pm until 2am.
FREE beer and drinks while on the bus!!!
Party Bus leaves Illegal Pete's at the following times:
7:15pm
8:15pm
9:15pm
10:15pm
Bus will leave Oriental to return passengers to Illegal Pete's at
12:45am
1:45am
Headliner: The Yawpers
https://youtu.be/dke3IQvva2I
 Loud.  Straightforward.  American.  Rock & Roll.
Main Support: The Other Black
https://www.youtube.com/watch?v=cSBJbtXteNc
The Other Black, featuring Cosmic Slim (formerly of Nathaniel Ratliff & The Night Sweats and Air Dubai) is
an experience unlike anything you have yet to observe in the Denver music market.

Newly formed in the late Fall of 2012, this dynamic group started with a mere 9
members and has launched to upwards of 24. That's right, just about 30 musicians
collaborating to bring you a unique sound and leave you with a smile in your soul.
These are musicians that have already contributed successfully to the scene; from Birds
Of A Feather, Bonnie & The Beard, Petals of Spain, The People's Abstract and more.

Needless to say, upon taking stage - this assortment of artistry commands it's presence.
Their act has been compared to reading an old school Parliament comic book. In a
nutshell, this crowd's get-up is wild, garish, & funky with fresh attire that makes you
believe they MUST have a costume designer among them somewhere. In short, they
are like watching a cartoon come to life.

The Other Black clearly simply loves what they do. Their soul-funk- do-wop mix with a
modern squeeze endears them. People are on their feet when The Other Black hits the
stage. If you haven't seen them yet, you will.
Support: The Moved
Whether crafting genre-defying love songs or cultivating a sensory definition for déjà vu, Denver songwriters Hunter Hall (Petals of Spain) and Tyler Imbrogno (Eldren)
collaborate in perfect synchronyto deliver an altogether modern and fresh sonic experience. theMOVED is a ground-shaking endeavor thick with nostalgia, transcendent textures,
and vocals that vibrate memories of legends.