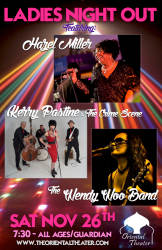 Sponsored By: 103.5 The Fox's Strictly Blues & KGNU
LADIES NIGHT OUT...
Featuring: Hazel Miller Band, Kerry Pastine and the Crime Scene and The Wendy Woo Band
Time: 7:30pm Day: Saturday Doors: 7:00pm Ages: All Ages with Parent or Guardian 21+ Price: $15
This Event Has Ended
Showtimes
10:00 pm
Hazel Miller Band
8:45 pm
Kerry Pastine & The Crime Scene
Hazel Miller Band

Hazel Miller is not just a great singer; "She is a force of nature!" quotes the Rocky Mountain News. Her voice has been called "stunning, moving and powerful." Hazel has been a sought after performer in Colorado for the past 30 years.  The Hazel Miller Band was formed more than 2 decades ago.  HMB performs an eclectic blend of Jazz, R&B, Blues and original music. Hazel Miller Band's music is designed to make the audience dance and sing-along.  They play music that excites and involves the listener.   
The first highlight of 2015 was Ms. Miller's singing of the national anthem at the inauguration of Colorado Governor John Hickenlooper, January, 13, 2015.  Later on that night the Governor's Inaugural Concert featured the Lumineers, String Cheese Incident and Big Head Todd and the Monsters with Ms. Miller.  Ms. Miller performed at the FIS Alpine Ski Championships in Beaver Creek, Colorado on February 15,, 2015; with an estimated international television audience of 180,000,000 viewers.  Ms. Miller has been chosen to record a welcome greeting for visitors taking the trains to the main terminal at Denver International Airport. 
Winter of 2014 Ms. Miller toured with Big Head Todd and the Monsters.  They toured the entire country with great response from audiences. Ms. Miller had a great summer, 2014, of festival appearances in Grand Junction, Del Norte, Pagosa Springs, Frisco, Breckenridge, Erie, Boulder, Telluride, Mississippi, New Mexico and Wyoming.  HMB has appeared many times at the historic Red Rocks Amphitheater as the head liner and as an opener.  Ms. Miller has appeared as a special guest of Big Head Todd and the Monsters for more than 19 years.  This year marks HMB's second appearance as the opener for The Botanic Gardens Music Series.  Summer 2013 they opened for Al Green and 2014 had them opening for Michael Mc Donald at the Botanic Gardens in Denver.
Ms. Miller's music can be heard on many local radio stations KOA, KBCO, KUVO, KRFC, KOTO and KCNU.  Nationally, Sirius Radio and XM Radio are playing her music on the "Real Jazz" and "B. B. King's" Blues stations.  Mark Ruffin, on "Real Jazz" XM Radio added Ms. Miller to the lineup fall of 2010 and she continues to be a requested performer on radio stations nationally for example:  Martha's Vineyard, Charlotte, Miami and Chicago.   Ms. Miller sang on 6 tracks of the hit 2014 CD Blues Masters 3.  This CD featured Mickey Thomas from Jefferson Starship and Tim Tucker, executive producer and lead guitarist on the CD.  The reviews said this about Ms. Miller's vocal performance: "Miller's vocals would rival Koko Taylor".  The CD is recognized as The Blues CD sleep of 2014.
Kerry Pastine & The Crime Scene

Since the release of their album Let's Do This Thing in 2015, Kerry Pastine and the Crime Scene have taken the national roots music scene by storm, spending the end of 2015 and most of 2016 touring North America. From sweaty, sold-out small clubs to sharing the main stage of the Bohemian Nights New West Fest with the Steve Miller Band, the Crime Scene shows no signs of slowing down. "The vintage tones swing and punch -- like Joan Jett backed by the Stray Cats," noted Pandora when naming Let's Do This Thing their Pick of the Week of September 1, 2015. Less than 3 months after the release of Let's Do This Thing, the band delivered an eight song holiday EP, It's a Crime Scene Christmas. Stubby's House of Christmas declared, "Every song is an original and every one is a winner. Kerry and company leave the bigger names in the dust. Kerry Pastine is Wanda Jackson, Patsy Cline, Grace Slick and Ann Wilson all rolled into one."


Kerry Pastine (vocals), Pauly Six (guitar), Lance Romance (upright bass) and Mad Dog (stand-up drums) are believers in mixing ideas from the past into something new, fun and exciting. There are elements of rockabilly, jump blues, classic soul and garage rock all spun together in an intoxicating original sound that fans are calling a "roots rock & roll party." Party is definitely the name of the game for the Crime Scene. Their songs are born from that magical feeling when a band gets together and the union feels like fate. All of the pieces simply fall into place and the result is a joyful celebration of life, love and hazy nights filled with live music, friends and just a hint of danger.


One of those hazy nights is captured perfectly in the video for Let's Do This Thing. Since its release in April 2015, the video has caught fire, landing the Crime Scene on television, radio and stages across the U.S. The Fox 31 Everday Show featured the video for their Viral Video spot where hosts Chris Parente and Kathie J commented, "I love this! I could not believe their sound. I thought, 'They have to be [from] L.A.' They are going places!" While on tour in Nashville, the band was invited to the 515 Studio for a televised interview on Nashville Entertainment Weekly where they talked about their "incredible" video and how their unique sound sets them apart from other artists and bands in the "Americana" genre. As Longmont Magazine points out, "It's rockabilly with a Patti Smith attitude. They're good. Really good. The music market really is ripe for some rock and roll, so they well may be on their way to bigger venues and locations."


Those bigger venues and locations are exactly where Kerry Pastine and the Crime Scene plan on heading for the rest of 2016 and 2017. The band played multiple shows during the 2016 Viva Las Vegas festival in April, including two nights at the House of Blues Las Vegas. The band's Summer 2016 schedule includes major festival appearances and shows with Coco Montoya, Cracker, The Fabulous Thunderbirds and the legendary Dick Dale. The Crime Scene has its sights set on the UK and Europe in 2017, as well as a new batch of songs that are ready to record. The band thrives on hard work, writing songs and bringing those songs to as many people as possible. It's time for the rest of the world to DO this thing with Kerry Pastine and the Crime Scene!

The sound is at once familiar, but modern. Vintage, but cutting edge. This ride isn't an old Cadillac. Kerry Pastine and the Crime Scene is a souped-up hot rod with bulletproof glass, a modern chassis and a shiny new engine. The perfect vehicle for a life of crime and musical performances born of sin.
Wendy Woo Band

Extremely popular with both fans and media, Wendy Woo has established herself as one of Colorado's most requested entertainers for concerts, festivals, fairs, and private events. In addition to having played in top venues on both coasts, she and her band perform frequently throughout the Rocky Mountain region and nearby states and have a large fan base.
They have played everything from intimate clubs to large amphitheaters and have the professional experience to accommodate your needs. Having recorded nine albums, Woo draws upon a deep catalog of songs in a wide range of genres: rock, blues, folk, and jazz. Setlists can be designed for child-friendly events, for teens, for families, or for a 21+ crowd.
Woo can play as a solo, as a duo with vocalist and viola player Robin Hoch, or with a three, four, or five piece band. 
2011 marked the release of the band's ninth album "Austerity," a collaboration that includes rock, pop, country, and funk songs written by all five members. The Wendy Woo Band was also recognized as the winner of the Best Local Band category of Channel 7's 2011 A-List competition, voted by Channel 7's viewers.