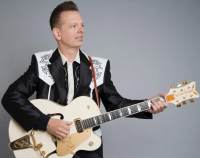 Jinx Jones Rockabilly Holiday Show!
With: Cowboy Dave Band
Time: 8:00pm Day: Sunday Doors: 7:00pm Ages: 18+ / Bar with ID Price: $12
This Event Has Ended
Jinx Jones

Rockabilly/Guitar Star: Jinx Jones. 
Nationally renown, guitar virtuoso and Colorado legend, Jinx Jones brings his red-hot rockabilly and honky-tonk show from San Francisco to Denver for a one-night only appearance. Jones is known for his work with artists as diverse as En Vogue, Roy Buchanan, and Chuck Berry, - to name a few. "
Jinx Jones is a major talent in the Rockabilly, Jazz, and Country field" (Vintage Guitar Magazine 20122). Jinx was a huge attraction in the Colorado area before relocating to San Francisco. Jinx takes his talent all over the nation selling out venues wherever he goes. HIs jaw-dropping guitar chops, his great sense of humor and his undeniable stage presence guarantee that his shows bring the house down wherever he goes. 
Jinx is a guitar virtuoso who seamlessly moves from rockabilly to jazz to twang and back again." (San Francisco Chronicle, 2012)

Cowboy Dave Band
Hillbilly yuckster by day, Saturday-morning-cartoon hero by night, Cowboy Dave and his band of honky-tonk all-stars are poised to put the western back in country and western. Known to many as the deadpanned FortyTwenty frontman and fiddle player, Cowboy Dave Wilson has spent the better part of this decade honing his craft throughout the honky-tonks of the Midwest and South.
The debut Cowboy Dave recording, a six-song EP, was released on Slackjaw Records in May. With the help and guidance of Emmy-nominated producer Greg Kincheloe, the album features an array of gritty, country-flavored cowbilly songs penned by Wilson.
The group brings a plethora of experience to its high-energy live show, drawing on influences ranging from the Bakersfield sound to straight-up Western Swing. In its short existence, the Cowboy Dave Band has been touring regionally, sharing the stage with such acts as David Allan Coe, Junior Brown and Split Lip Rayfield. In addition to Wilson's original songs, the Cowboy Dave Band rounds out its shows with classic cowboy material primarily from the 1950s and '60s.
The Denver-based group includes Glenn Taylor (pedal steel), Scott Johnson (doghouse bass), Adam Stern (guitar) and Clay Bielman (drums), while the Omaha-based group includes Guitar George Laughery (guitar), Troy Johnson (doghouse bass), Vince Krysl (drums), Sam Packard (fiddle) and Steve "Fuzzy" Blazek (pedal steel).
Guest musicians on the album include Col. J.D. Wilkes (of the Legendary Shack*Shakers), who plays the villian in the Cowboy Dave Theme Song, Blazek (pedal and lap steel), Charlie Johnson (upright bass), Tony Robertson (electric guitar), Tony Hillhouse (drums), Kincheloe (banjo), Shaun Sparks (harmony and co-writer on Baptist Church Blues) and Lern T. (harmony on Friend In A Bottle and Drug Around).
The EP is being supported by a healthy string of tour dates, so look for the Cowboy Dave Band in a honky-tonk near you. And when there is trouble, rest assured, Cowboy Dave will be there.