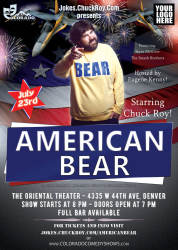 jokes.chuckroy.com presents: AMERICAN BEAR starring:
CHUCK ROY w/ Steve "Mudflap" McGrew
Also: The Smash Brothers - Hosted by Eugene Kenny
Time: 8:00pm Day: Saturday Doors: 7:00pm Ages: 18+ / Bar with ID Price: $10
This Event Has Ended
Showtimes
8:30 pm
Steve "Mudflap" McGrew
8:00 pm
The Smash Brothers
Chuck Roy

Chuck Roy, better known as 'Bear,' established himself as the warm-up performer for the Late, Late Show with Craig Kilborn. To compliment his stand-up, he made guest-starring appearances on top television series such as Will & Grace and 3rd Rock From The Sun. 
Chuck was a Semi-Finalist on NBC's Last Comic Standing and has been featured on Comedy Central's Premium Blend. He makes regular appearances at Comedy Works and has hosted 10 seasons of Film on the Rocks at Red Rocks Amphitheater. Chuck has toured with well-known comedians including Josh Blue, Tammy Pescatelli and Ralphie May.
Currently, Chuck is a co-host on the new internet talk show called "Euge," hosted by veteran comedian Eugene Kenny. He is also featured on HULU and Showtime headlining a comedy showcase called Louie Anderson Presents. Most recently, Chuck was invited to do a set on Ralphie May's 'hosted by' comedy special, the soon-to-be released "Ralphie May: Filthy Animals." After his set, Hennepin Studios signed Chuck to shoot a new 1-hour special.
Steve "Mudflap" McGrew

Comedian Steve McGrew's take on the lighter side of relationships -- from a definitely male perspective -- helped make him a hard-working mainstay on the national standup circuit by the end of the '90s, as well as one of the most popular comics working Las Vegas. Born in Tulsa, OK, but raised near the Houston area, McGrew began his career at the beginning of the '80s, working as an editorial cartoonist for the Houston Chronicle during the day and performing standup at night; early on, he shared stages with comedians like Bill Hicks and Sam Kinison at Houston's Comedy Workshop club. After about five years, McGrew decided to concentrate on comedy full-time and quickly became a popular attraction around the South. From there he went on to appear on virtually every cable show devoted to standup comedy, including An Evening at the Improv, Caroline's Comedy Hour, Showtime's Full Frontal Comedy, and Comedy on the Road, among others. He also showed up on MTV, VH1, and TNN; as a finalist on Star Search; and on the Bob & Tom morning radio show. Additionally, McGrew opened concerts for several rock and country artists, including Dolly Parton, Tanya Tucker, Wynonna Judd, Jerry Lee Lewis, the Doobie Brothers, and the Beach Boys. As he grew more ambitious, McGrew put together a series of one-man shows -- including a stage piece based on his experiences as a divorced father -- that allowed him to explore different comic territory. McGrew made a string of recordings available on the Laughing Hyena label, and then switched to Uproar for his most widely distributed album to date, 1999's Too Much Man for Just One Woman and Other Lies. 
The Smash Brothers

Cory and Chad AKA The Smash Brothers are Identical Twins born and raised outside of East LA. Their Mother is a Mail lady and their father is a crazy Biker. They attended more than 14 schools growing up. So always being the new kid helped these two become the funny kids in school to try and make new friends. They say they are each others best friends. Even though they look alike they are really quite different. Cory is the so called "Good Twin". With his lad back style he is the calmer twin who doesnt drink and party and he keeps these two grounded. On the other hand Chad is the "Evil Twin". He is the bad boy type, with his wild party stories he keeps Cory on his toes.
Growing up as Identical Twins they have found ways to make it through life by either switching classes,breaking up with each others girlfriends, or using each others drivers licenses, you never know what these two will say or do next. These guys are a must see event. If you have ever wondered what it would be like to have a twin come out and see one of LA's top comedy Duo.