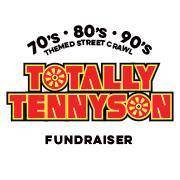 Totally Tennyson featuring
6 Million Dollar Band
w/ The Gin Doctors & SuperMagick
Time: 4:45pm Day: Saturday Ages: 21+ Ages Price: $35
This Event Has Ended
6th annual Totally Tennyson, sponsored by Nostalgic Homes, is stoked to return on Saturday April 30th, 2016. This '70s-'80s-'90s theme street crawl features totally tubular destinations from bars, pubs, restaurants, shops, a party bus, and more! Your ticket includes complimentary 'tastes' of what Tennyson has to offer between 35th-46th Avenues.  Proceeds of ticket sales going directly to local area public schools. Includes admission to the hottest concert by 6 Million Dollar Band, The Ultimate '80s Experience at the Oriental Theater!

Live music starts at 4:45pm in front of theater!
Click here for more info about the event
Showtimes
9:00 pm
6 Million Dollar Band
6 Million Dollar Band
The Six Million Dollar Band (6MDB to their fans) delivers high-energy 80s New Wave music using a combination of new and old technology.  Five keyboards complement the guitar, drum and bass rhythm section, producing the classic sounds 80s fans love to hear.  Vintage 80s synths deliver album-perfect sound.  Tears for Fears, Duran Duran, Simple Minds, Depeche Mode and more are recreated faithfully and performed with the same energy as the original acts.
The members of 6MDB bring well-seasoned skills, each having played professionally for nearly two decades.  Blazing guitar solos, four part vocal harmonies, and genuine enthusiasm for the music complement the already unbeatable sound that the band delivers.  Thanks to their professionalism both on and off the stage, 6MDB has quickly become an in-demand act for large venues and private events alike.
See them live and discover why their audience describes them as "The ultimate 80s experience!"
SuperMagick

It's magick......
Funk. Soul. Disco. Flashes of city streets, Rocky Mountain peaks, a distant bayou. Lights. Bodies. Sweat. Unrelenting gut-punching rhythm. Ecstatic musical adoration of life. A blooming, buzzing room where beautiful bodies bear funky-witness to the Super Magick dance-party experience! Take it in. Three buttery horns, a smokin female vocalist, drums, bass, guitar, and a smattering of analog synth burbles to fill the spaces. It's magick; believe it.