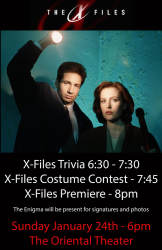 X-Files Premiere Party
Trivia and Costume Contest
Appearance by The Enigma
Time: 6:30pm Day: Sunday Doors: 6:00pm Ages: 18+ / Bar with ID Price: $10
This Event Has Ended
The Truth Is Out There!!
Come enjoy the X-Files season premiere on the huge movie screen at The Oriental Theater.
X-Files themed trivia starting at 6:30pm with CASH PRIZES!!
Grab a few friends (teams of up to 8) and participate in our X-Files trivia. 
X-Files Costume Contest at 7:45pm with CASH PRIZES!!
Dress up as your favorite character from any X-Files episode for a chance to win fabulous prizes!!
X-Files Season Premiere at 8pm
Enjoy the season premiere on the largest (non-Imax) movie screen in Denver!
The Enigma

The Enigma has appeared in a number of television programs including Penn & Teller: Bullshit! and The X-Files (episode "Humbug") where he played a character called "the Conundrum", loosely based upon himself, which was later made into a toy as part of Palisades Toys' X-Files PALz action figure line.