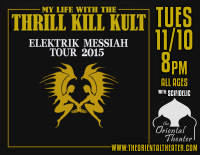 Groovey.TV Presents:
My Life With The Thrill Kill Kult
w/ SCIFIDELIC & Wiretrap
Time: 8:00pm Day: Tuesday Doors: 7:00pm Ages: All Ages Price: $25
This Event Has Ended
Showtimes
10:00 pm
My Life With The Thrill Kill Kult
My Life With The Thrill Kill Kult
***NOTE*** - This show is $30.00 in cash at door, $32.00 credit
Hailing from Chicago's renowned Wax Trax Records stable of bands, THRILL KILL KULT creators Groovie Mann (lead vocals) and Buzz McCoy (keys/production) have been conjuring up sonic tales of blasphemy, sexcapades and kitschy horror for over 25 years. Their sound is a concoction of experimental, disco, rock, new wave, lounge and glam, interlaced with their signature "sampled dialogue" – a reflection of the duo's musical influences, and insight into the their taste in cinema. In fact, the original intent was to write and produce a trashy B-movie in the style of John Waters and Russ Meyers. Yet without much film experience and access to video equipment, the project was scrapped, only to be transformed into a musical group of the same name – something both had more expertise in. Groovie (Franke Nardiello) fronted the late 70's Chicago bands The DT's and SPECIAL AFFECT, as well as singing for the post-punk British outfit DROWNING CRAZE. Buzz (Marston Daley) attended Berklee College of Music in 1979, but soon realized a formal education in jazz piano was not for him. He picked up the guitar, and began performing with a variety of "art-punk" type groups in the Boston music scene before relocating to Chicago in 1987.
The early years of TKK were spent touring extensively with an entourage of musicians, performance artists, and a back-up trio of voluptuous, singers/dancers dubbed the BOMB GANG GIRLZ. The shows had a "Cabaret From Hell" vibe, arousing the curiosity of the kids and the media, establishing the group as one of America's premier "industrial-dance" acts.
The band's popularity among the underground club scene was fueled by hard-hitting dance tracks with titles like Kooler Than Jesus, Do You Fear For Your Child, A Girl Doesn't Get Killed By A Make-Believe Lover Cuz It's Hot (featuring punk poet chanteuse Lydia Lunch), and A Daisy Chain 4 Satan. The Parents Music Resource Center (PMRC) was appalled.
Their third album SEXPLOSION (1991) spawned the chart-topping radio savvy song Sex On Wheelz, which quickly gained the attention of the major labels, and the band signed to Interscope Records in 1992. Like all of their releases, the album had an overpowering cinematic quality, so it wasn't surprising when Hollywood also took notice. They found themselves writing for an assortment of soundtracks like Paul Verhoeven's "Showgirls" and animator Ralph Bakshi's "Cool World." In 1994, they stepped in front of the camera for a cameo in the cult classic "The Crow" to perform the song After The Flesh. More recently TKK was written into the story line of the 2013 film "Sexy Evil Genius". Kult music can be heard frequently in movies, television and cable shows, like HBO's long running, "Real Sex" series, Showtime's "Californication", and last summer's indie flick "Crazy Eyes".
But it doesn't end with studio, film and TV; Groovie and Buzz still take to the road extensively, along with their rotating cast of dubious characters. Over the years, the band has shared billing with a diverse group of acts such as Siouxsie And The Banshees, Lords Of Acid, Ministry, EMF, Marilyn Manson and KFMDM to name but a few.
MY LIFE WITH THE THRILL KILL KULT'S sound has always been fearlessly experimental and has become hugely influential to many artists today. They continue to morph and stretch the fabric of music and as we know it, always remaining true to the KULT and true innovators.
SCIFIDELIC

SCIFIDELIC is an Industrial/Modern Rock movement. This project is the work of the producer/writer named Caustic. Scifidelic latest cd titled "Almighty Puppet Master: Apocalypto " is the 3rd and final release to the Trilogy Series. Band Members are: Caustic (vocals, synth, guitar, programmer), Rew Prescott (electronic drums), Tiffany Prescott (Synth), Sara Geller (Vocals), Christopher Malone (Bass), Kyle Sage (Guitars) and Sadie (Vocals).