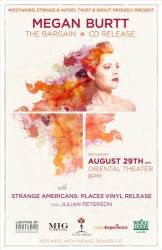 Megan Burtt "The Bargain" CD Release
w/ Strange Americans "Places" 7" Vinyl release
& Julian Peterson
Time: 8:00pm Day: Saturday Doors: 7:00pm Ages: All Ages / Bar with ID Price: $12 - $25
This Event Has Ended
The music on The Bargain is bright and uplifting and, while it does have the inviting sheen of pop, Burtt's distinctive melodies, poignant, soul-searching vocals and profoundly insightful lyrics deliver a message shaded informed by sorrow and uncertainty. A few years back, Burtt prey to a potentially life threatening condition, but her faith in the healing power of music and her determination to become a performing artist brought her out of the shadows.
"These songs are about my struggle to recover my health," she explains. "The word 'bargain' is provocative because we're constantly bargaining, deciding how and when we should show up in our lives. Every relationship feels like an exchange of something for something else, things we may not be aware of until we're dancing with mortality."
That dance is the subtext of the music on The Bargain. Louis Cato (Bobby McFerrin, Marcus Miller, Snarky Puppy, Mariah Carey) a talented multi-instrumentalist, and long time member of Burtt's backing band, produced the album, creating perfect settings for her gently passionate vocals.
Cato and Burtt crafted the arrangements on The Bargain with a fine ear for sonic nuance and melodic detail. Their refined blend of rock, funk, jazz and blues pulls the music into interesting shapes, full of unexpected delights, songs that are accessible, while remaining true to Burtt's inimitable lyrical vision. 
After two years of careful production, The Bargain arrives to show off Burtt and Cato's creative arrangements and bold vocals. "It's more honest and evolved than my first album." 
The Bargain will be released August, 25, 2015
Showtimes
8:00 pm
Strange Americans
Megan Burtt

Hey party people. I'm Megan. My band calls me Nutmeg. My friends call me Megs. My high school boyfriend called me Meggers. I hated that. We didn't last. I grew up in Denver, and I really love the snow. I also love to play dress-up, and I really love my carhartt overalls. I have an issue with peanut butter...or an unhealthy relationship. We are dealing with it. I love music more than anything else I've found, which is likely why I happily spend all my time doing something musical. I have a birthmark on my left knee. If it's true, that freckles and birthmarks and stuff are angel kisses, then angels love the shit outta my left knee. When I retire, I'm going to open a flower/cafe shop. I can't wait to visit Africa. I can't wait to learn how to surf. I can't wait own a house that has a porch and a fireplace. I can't wait to come play my music for you!

Thanks for jumping in my ride, if even for a short time while procrastinating after your lunch break. Thanks for being curious. Thanks for supporting art. Thanks for supporting music. Thanks for supporting live music. Thanks for inspiring me. Thanks for being a rad human. Thanks for never calling me Meggers.
Strange Americans

It's the kind of music that the Carhartt-wearing, hard-working, industrial beer-drinking, regular Americans would listen to — the ones who could end up on an episode of TV's Dirty Jobs. It's a little raw, a bit loud, unapologetic and honest. It's blue collar rock and roll and it's something that Denver's Strange Americans are crafting with both brawn and finesse, like a hot rod mechanic bringing back an old barn find.

In a sense, Strange Americans are rescuing something from the rust pile — straight-forward, no frills rock and roll, and a matching aesthetic that is heavy on songwriting and storytelling, but presented with reverb-drenched punch and passion — the way The Band or Crazy Horse would have done it.

Strange Americans first began in 2009 through a series of Craigslist ads and mutual acquaintances. The group, which released its much applauded debut full-length A Royal Battle in 2012, released its sophomore album That Kind of Luster in September of 2014 . The ten-song, 45-minute rocker which the group began working on in the summer of 2013, showcases a band that has dialed in an authentic, raucous live show and somehow convey that same energy in the studio as well.