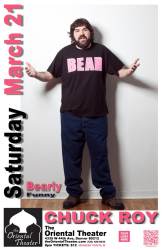 Chuck Roy
Time: 8:00pm Day: Saturday Doors: 7:00pm Ages: 18+ / Bar with ID Price: $7 - $17
This Event Has Ended
About the show: 
Stand-up comedian Chuck Roy (aka 'The Bear') headlines the Oriental Theater. Expect fresh and funny comedy as Chuck Roy wakes up from hibernation with a headlining stand-up comedy show at this historic venue. This spring Chuck Roy is touring to promote his role as 'Rusty' in the new movie 'The Gnashing'. The Bear Truth will be revealed with original comedy as Chuck Roy develops an hour of comedy for a stand-up special. New jokes and stories will tell the storyof how Chuck Roy transitioned from a young Republican political operative shaking with the likes of Jack Kemp and Rush Limbaugh to a life of telling the truth in stand-up comedy specials including 'Ralphie May Filthy Animal Tour' and 'Louie Anderson Presents'. 
TICKETS:
General Admission:  $12
Advanced Tickets:  $8  on sale 2/17 – 3/20
Pre-Sale:$7  on sale until 2/17
#VIPizza Party with Two-fisted Mario's Pizza and Smirnoff Vodka! 
Day of Show:  $20
Advanced Tickets: $17  on sale 2/17 – 3/20
Pre-Sale: $15  on sale until 2/17
- Enjoy 2 slices of Two-fisted Mario's Pizza (cheese or pepperoni)
- PLUS! A delicious beverage from Smirnoff Vodka
 - VIP Early Admission from 6:45p – 7:30pm
Chuck Roy

Chuck Roy, better known as 'Bear,' established himself as the warm-up performer for the Late, Late Show with Craig Kilborn. To compliment his stand-up, he made guest-starring appearances on top television series such as Will & Grace and 3rd Rock From The Sun. 
Chuck was a Semi-Finalist on NBC's Last Comic Standing and has been featured on Comedy Central's Premium Blend. He makes regular appearances at Comedy Works and has hosted 10 seasons of Film on the Rocks at Red Rocks Amphitheater. Chuck has toured with well-known comedians including Josh Blue, Tammy Pescatelli and Ralphie May.
Currently, Chuck is a co-host on the new internet talk show called "Euge," hosted by veteran comedian Eugene Kenny. He is also featured on HULU and Showtime headlining a comedy showcase called Louie Anderson Presents. Most recently, Chuck was invited to do a set on Ralphie May's 'hosted by' comedy special, the soon-to-be released "Ralphie May: Filthy Animals." After his set, Hennepin Studios signed Chuck to shoot a new 1-hour special.