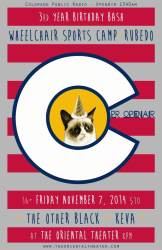 CPR Open Air 1340 3rd Year Birthday Celebration!
Wheelchair Sports Camp / The Other Black / Rubedo / Keva
Time: 9:00pm Day: Friday Doors: 8:00pm Ages: 16+ / Bar with ID Price: $10
This Event Has Ended
Showtimes
12:00 am
Wheelchair Sports Camp
Wheelchair Sports Camp

Wheelchair Sports Camp
Wheelchair Sports Camp, the Denver based pseudo hip-hop band is fronted by the disabled, wheelchair bound MC/producer/activist/shit-talker Kalyn. The band is a combination of live and electronic instruments with a more jazzy, noisey, funky, combination to the traditional hip-hop group. Their unconventional setup of live instruments and Kalyn's produced beats presents a polished sound with old-school lyrics that maintain a sarcastic yet independent and heavy consciousness. Kalyn is 27 years old, weighs 53 pounds and measures three feet, six inches tall. She's light enough to carry, compact enough to hide under a winter coat and is sometimes mistaken for a child. But Kalyn, who has the brittle-bone disability osteogenesis imperfecta, is hardly innocent, precious, or inconspicuous. The band has been featured on the cover of the Village Voice as well as in SPIN Magazine, Huffington Post, High Times Magazine and more. 

The band unknowingly started in the summer of 1997 when Kalyn moved back from Burbank, CA to her Denver hometown and was invited to attend and corrupt the 14th annual week-long Wheelchair Sports Camp. The band tours the states and beyond from their home in Denver, Colorado. 
Rubedo

Rubedo
Rubedo is the physical manifestation of sound streaming from the psyche of its members. This is the alchemy of rock and roll.
Join their mailing list for upcoming shows and new releases. 
Fate, serendipity, kismet, cosmic coincidence, chemical chance. Something inexplicable brought Rubedo together. The band's name comes from an alchemical concept and that seems appropriate enough when you spend any amount of time around these guys or just listen to their recorded output.
Gregg Ziemba, Kyle Gray and Alex Raymond all met before getting out of high school and were all recognized as creative talents in their youth that would blossom later in life. They were jazz guys then and you can still hear that spontaneity honed by discipline in their music now. But when Kyle went on an existential/spiritual journey, hiking across the country he woke up one day after an epiphany struck him and he called Gregg to start the band.
It clicked from there and the duo got together with Alex and started a band that had that informal structure and flexibility of free jazz, the noisy psychedelic freakout instincts of the wilder ends of The Mars Volta and a deeply rooted sense of compassion for each other and the rest of humanity that informs how these guys operate and engage with the rest of the world. That wellspring of good instincts, good spirits and psychological and creative openness that drew the band to interesting experiences and unexpected opportunities the list of which reads like fiction.
It started with the band meeting Isaiah "Ikey" Owens, the keyboardist of The Mars Volta, who has gone on to become a friend, mentor and collaborator with the band as well as producing Rubedo's first album, Massa Confusa, and its latest opus, Love Is the Answer. Owens was like the god Janus that opened some doors for and within the band, challenging it to step up and not merely be a local phenomenon.
Through the DIY space Unit E, Rubedo had the chance in 2012 to curate the Blacktop Music Festival and shutting down a couple of streets in downtown Denver--something that rarely happens for much of anything beyond the occasional parade or visits from heads of state. In 2013, Rubedo was also asked to perform at Denver International Airport for a month, several hours a day. Experimental rock bands don't get asked to do things like that but that's the story of Rubedo.
Its music is out of left field but incredibly accessible. It has a core of improvisation built into the sound, the performances and the songwriting but never feels self-indulgent. There is something inviting about the band's music even in its most fiery moments like you're sharing the same dream, the same feelings without being subsumed by anyone else's vision.
Love Is the Answer may sound like a hippie platitude but with Rubedo it is a simple formula for salving the ails of the modern psyche without telling you how that has to look, the form it has to take and without suggesting a timeframe. Rather, it is a fundamental statement of everyday spiritual solidarity with the struggles of being alive and a subtle but powerful act of kindness given from that tranquil place in all of us we must cultivate in these troubled times.
 -Tom Murphy
Other Black

Other Black
The Other Black, featuring Cosmic Slim (formerly of Air Dubai and Petals of Spain) is
an experience unlike anything you have yet to observe in the Denver music market.

Newly formed in the late Fall of 2012, this dynamic group started with a mere 9
members and has launched to upwards of 24. That's right, just about 30 musicians
collaborating to bring you a unique sound and leave you with a smile in your soul.
These are musicians that have already contributed successfully to the scene; from Birds
Of A Feather, Bonnie & The Beard, Petals of Spain, The People's Abstract and more.

Needless to say, upon taking stage - this assortment of artistry commands it's presence.
Their act has been compared to reading an old school Parliament comic book. In a
nutshell, this crowd's get-up is wild, garish, & funky with fresh attire that makes you
believe they MUST have a costume designer amongst them somewhere. In short, they
are like watching a cartoon come to life.

The Other Black clearly simply loves what they do. Their soul-funk- do-wop mix with a
modern squeeze endears them. People are on their feet when The Other Black hits the
stage. If you haven't seen them yet, you will.

All songs are written and arranged by Cosmic Slim, with the exception of the few covers
they perform honoring soul legends Sly & The Family Stone and Ray Charles.