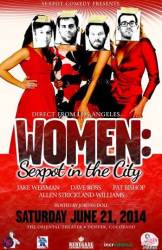 Sexy Pizza & Sexpot Comedy Presents:
WOMEN COMEDY
feat. Jake Weisman, Dave Ross, Allen Strickland Williams and Pat Bishop
w/ host Jordan Doll
Time: 8:00pm Day: Saturday Doors: 7:00pm Ages: 21+ Ages Price: $15
This Event Has Ended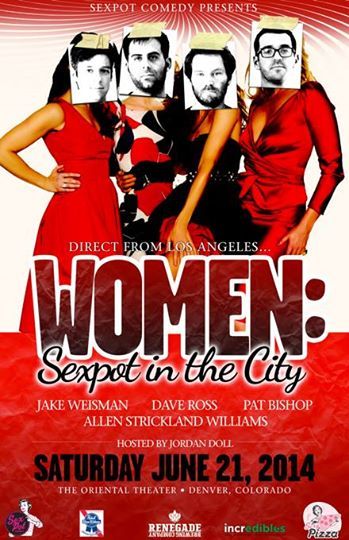 WOMEN COMEDY

WOMEN COMEDY is - Jake Weisman, Dave Ross, Allen Strickland Williams and Pat Bishop.
Women Comedy is a truly subversive crew of four supremely talented comics right down to their name: these dudes have wangs!  They're a part of the LA comedy scene's fabric between their wildly popular videos and their standup and sketch shows and performances.  
You should follow them on Twitter and Facebook and come to this show as Sexpot Comedy is bringing you WOMEN because they are their own, amazing flavor.  Dave used to run Holy Fuck in LA, he also has a great podcast on the nerdiest network called TERRIFIED WITH DAVE ROSS.  Pat is the Brett Ratner of his generation behind the camera.  Jake is basically a narcissistic Twitter comic who only likes cats and hates himself.  Allen is just gorgeous.  Here's a quick history in their words...
The story is this: Jake and Dave thought they might be gay for a long time, and Allen was an asshole. Jake and Dave became stand-up comedians to deal with some serious personal problems, and Allen started stand-up in hopes of continuing to be an asshole. Pat is a straight-up genius, and has no business hanging out with these other jerkoffs or being a stand-up comedian.
They're all egomaniacs who think everything is about them, and they work terribly together. Most writing meetings devolve into fistfights, but none of them can punch very hard, so no one ever gets hurt.