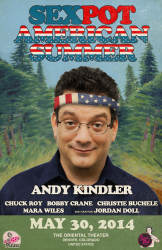 Sexy Pizza & Sexpot Comedy Presents:
Andy Kindler
w/ Chuck Roy / Bobby Crane / Christie Buchele / Mara Wiles & host Jordan Doll
Time: 8:00pm Day: Friday Doors: 7:00pm Ages: 21+ Ages Price: $20
This Event Has Ended
Andy Kindler
Andy Kindler was a recognizable face on television throughout the 1990s and 2000s, most notably for his recurring role on the popular sitcom "Everybody Loves Raymond" (CBS 1996-2005). But among comics, he was much better known for his impassioned critiques of his chosen profession. In 1991 he wrote a biting piece for National Lampoon called "The Hack's Handbook." The piece lambasted his fellow comedians for being "too predictable" in their acts, and thrust Kindler into the national spotlight seemingly overnight. In 1995, Kindler parlayed his newly-anointed role as the comedy world's foremost critic by giving a yearly "State of the Industry" address at Montreal's Just for Laughs Comedy Festival. Kindler gave his first address in 1995; the talk soon grew to become a widely anticipated yearly event among comedy insiders.
Born in New York City, Kindler attended Binghamton University in New York, where he earned his Bachelor's degree in English. He moved to Los Angeles in the late 1970s to pursue a career as a singer/songwriter, but soon realized that the competition was far greater than he initially anticipated. Not to be deterred, Kindler gravitated towards stand-up comedy in the early '80s. He worked odd jobs by day, including selling home products door to door, while honing his comedy act by night. He earned notoriety in 1991 after penning his stinging critique of the stand-up comedy world for National Lampoon. The story made Kindler a household name among both comedy veterans as well as up-and-comers, and earned the young comic a writing job on the series "Comic Strip Live" (Fox 1989-94). 
In 1995, the producers of Montreal's Just for Laughs Comedy Festival asked Kindler to give an address. Kindler's set, which was titled "How To Be A Hack Comic," was a spin-off of the piece he wrote for National Lampoon four years prior. His set drew such a lively reaction that the producers of the Festival asked him to make his speech a yearly event. In the years that followed, Kindler's "State of the Industry" speech quickly became a hotly anticipated event, and included pointed critiques of popular mainstream comics such as Dane Cook and Louis C.K. In addition to his yearly "State of the Industry" speech, Kindler widened his TV credits throughout the '90s and 2000s, with recurring roles on "Everybody Loves Raymond," "Raising Dad" (WB, 2001-02), and "Wizards of Waverly Place" (Disney Channel, 2007-2013). In 2010, Kindler joined the judging panel on the final season of the reality competition "Last Comic Standing" (NBC 2003-2010) alongside Natasha Leggero and Greg Giraldo. The following year, Kindler began lending his distinctive voice to the animated series "Bob's Burgers" (Fox 2011- ), playing a mortician named Mort who eats lunch every day at the titular diner. In 2013, he guest-starred as himself on an early episode of "Maron" (IFC 2013- ), a semi-autobiographical sitcom by standup comic and podcast host Marc Maron.
Twitter: https://twitter.com/AndyKindler