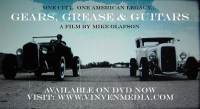 Gears, Grease & Guitars (Film Screening)
w/ live music w/ Johnny Kongo All Star Show
Time: 7:30pm Day: Wednesday Doors: 7:00pm Ages: 18+ / Bar with ID Price: $7
This Event Has Ended
Showtimes
8:00 pm
Gears Grease & Guitars
7:30 pm
Johnny Kongo All Star Show
Gears Grease & Guitars
About the Film:
Focuses on the history of rodding, racing and rock and roll from the early 50s through today, from the perspective of one American city: Denver, Colorado. Full of interviews with drag racers, record producers, car builders, models, promoters and musicians- then and now 
https://www.facebook.com/pages/Gears-Grease-and-Guitars/163675410337737 
http://www.vinvenmedia.com  
Johnny Kongo All Star Show
With 12+ years performing and playing experience, Johnny Kongo rolls thick when it comes to bass. Either up-right or electric, expect the fat tone and energy only achieved by those that truly love the instrument. Recently gone solo, Kongo has started The Johnny Kongo All-Star Show (J*K ASS). Focusing on Roots, Rock, and Honky-Tonk with a heavy percussion based foundation which allows JKASS to keep pace with contemporary sounds while still holding the value and energy of roots styles. JKASS guest stars musicians of different styles and genres from around the Denver music scene; Working to unite the many flavors and tastes of Colorado's diverse music platform.
Johnny Kongo has played in bands such as: The Fossil Ridge Band, The Vagrents, The Almont Bros String Band, The InSINerators, The Aquasonics, Mad Dog and the Smokin' Js, and Adam Lopez and his Mighty Lowcasters. Also on the resume' is extensive touring and studio experience.