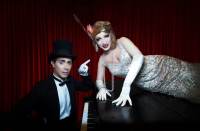 RuPaul's Drag Race Season 5 Winner...
JINKX MONSOON (with Major Scales) are..."THE VAUDEVILLIANS" "Straight or gay, everyone leaves this show with sides aching from laughter." -- The New York Times
Jinkx Monsoon's critically acclaimed off-Broadway show
with Special Guest: Nick Sahoyah
Time: 9:00pm Day: Saturday Doors: 8:15pm Ages: All Ages with Parent or Guardian 21+ Price: $32 - $48
This Event Has Ended
Jinkx Monsoon

***NOTE***

There are 70 "M-n-G" tickets to meet Jinkx.  Included in price will be a signed poster, show ticket, and photo op with your phone!
The Making Of Jinkx Monsoon
Jerick Hoffer graduated summa cum laude with a degree in theatrical performance from Cornish College in Seattle. His talented peers are singing his praises, but his overbearing and impudent persona, known as Jinkx Monsoon on season five of RuPaul's Drag Race, didn't go for the academic hype. Jinkx wanted to be famous, not smarter than everyone, and she succeeded.
Influenced by a grandmother with charm school polish, Hoffer learned to combine the sophistication of a southern belle with the crass behavior of a working girl. Jinkx is all about contrasts and what RuPaul describes as "a stage left, off center kind of quality." With ten years experience on stage, Hoffer is a seasoned Portland-born entertainer who has captured the attention of his native northwest region.
The creation of Jinkx was complicated. "From the movie Death Becomes Her, I was inspired by the crazy extent vain women will go for eternal youth, beauty, and power," Hoffer explains. "Through Lucille Ball I saw how a woman can bring you to tears with laughter with nothing more than a look. Through the Disney villains I was raised with, I saw how powerful a woman can be, and yet so deliciously evil. And through my mom, I saw not only the trials and tribulations a single mother faces every day, but also the strength and determination a woman can possess when she is trying to provide a bright future for her children."
Extraordinarily real, some audiences have not yet decided whether Jinkx is a woman or a drag queen. Com-batting humble beginnings, struggling for social status, raising a homosexual son striving for fame as a comedian, this well-developed character has attained more than acclaim, but a life of her own.
As early as 2006, Hoffer appeared as the lead dancer in the world's largest drag queen chorus line, which made the Guinness Book of World Records. By 2012, he had advanced to roles in Seattle theaters, playing Moritz in "Spring Awakening" (produced by Balagan Theater) and Angel in "RENT" (produced by The 5th Avenue Theater). In 2013, Hoffer will play Hedwig in "Hedwig and the Angry Inch" (produced by Balagan Theater and Seattle Theater Group). A trained singer, Hoffer is half of the musical duo The Vaudevillians, a 1920s revival act.
The Jinkx Monsoon personality is a manifestation of years of practice, a career endeavor that began when Hoffer was fifteen. "She is definitely a zany, off the wall, irreverent, gorgeous anachronism," Hoffer adds. "She simply refuses to let her audience sit idol; she is a powerhouse of song and comedy, igniting her audiences in a frenzy of laughter and sexual tension."
Jinkx Monsoon is one of the brightest stars on the drag scene today!
Nick Sahoyah

Nick Sahoyah started his comedy career in the summer of 2010 at a gross coffee shop on Capitol Hill. Since then he has had the pleasure of performing stand up across the country participating in festivals such as Limestone Comedy Festival, The Comedy Exposition, Hell Yes Fest, SF Sketchfest, and Bridgetown Comedy Festival. In Seattle he cohosts the live talk show Not Too Late with El Sanchez at Eclectic Theater, and QTPOC Is Not A Rapper, a showcase and mic at Scratch Deli. Aside from stand up, you may recognize Nick from his web show 8-Hit Gaming on Jetspace Magazine, his short film Poster Boy! on vimeo, or as Jinkx Monsoon's son/sidekick in Cool Mom on WoWPresents.