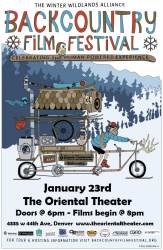 The Winter Wildlands Alliance
9th Annual Backcountry Film Festival
Hosted by Friends of Berthoud Pass: www.berthoudpass.org
Time: 8:00pm Day: Thursday Doors: 6:00pm Ages: All Ages Price: $10
This Event Has Ended
2013-14 Backcountry Film Festival Line U:p
• Valhalla from Sweetgrass Productions and winner of the 2013 "Best of Festival," is the  tale of one man's search to rediscover the freedom of his youth. Feeling the distant heat of it's fire still burning in the mountains of the frozen north, he sets out in search of those tending the flame—the untamed, the wild, and the outcast dwelling on the fringe.
• Trail Break by Powderwhore is a beautiful black and white portrait of deep powder skiing.
• Morning Rituals, is a day in the life of an undercover ski bum. Presented by Chris Dickey of Orange and Purple.
• Youth, from filmmaker Corey Rich, inspires us to pack up the kids and proves that backcountry skiing is a family affair. 
• Bolton Valley is the story of how a small community fought to save their beloved ski area. Winner of "Best Conservation Film" award.
• Nokhoi Zeekh: In search of the Wolverine. Five Americans set off on a month-long ski expedition through northern Mongolia to document one of the world's most iconic but least-known winter species.
• Bigger Braver, filmmaker Luc Mehl turns the camera on a young female athlete who shares her insight into the courage and strength involved in seeking big mountain adventure. Winner of "Best Short Film" award.
• From filmmaker and storyteller Fitz Cahall at Duct Tape then Beer comes Strong. Capturing Roger Strong's reflections about moving forward after a tragic avalanche. 
• Poor Man's Heli, skier Antoine Boisselier thinks outside the skin track and comes up with a new and unique way to the top of the mountain. From Mike Douglas at Switchback Entertainment.
• From filmmaker Jason Thompson comes Take the Ride, asking the question; "when you have a dream will you buy the ticket? Will you Take the Ride?" 
www.backcountryfilmfestival.org