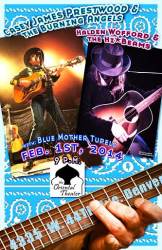 Casey James Prestwood and the Burning Angels / Halden Wofford & the Hi*Beams
w/ Blue Mother Tupelo
Time: 9:00pm Day: Saturday Doors: 8:00pm Ages: 16+ / Bar with ID Price: $10
This Event Has Ended
Showtimes
11:30 pm
Halden Wofford and the Hi*Beams'
10:00 pm
Casey James Prestwood & the Burning Angels
9:00 pm
Blue Mother Tupelo
Halden Wofford and the Hi*Beams'

 Halden Wofford and the Hi*Beams' throwback and stylish take on the honky tonk genre is a breath of fresh air amidst other wannabe retro acts. With some of the choicest players on the Front Range and a professionalism that is bar-none, the Hi Beams landed themselves on the famed NPR show "A Prairie Home Companion" in recent years and Wofford's distinct vocals continue to garner the band well-earned attention. - Marquee Magazine, Boulder, CO
One of Colorado's most popular and enduring acts, the Hi*Beams celebrated ten years together in 2010. Rootsy but not revivalist, the Hi*Beams' rollicking stage act features rocked-up Texas honky tonk and western swing, equal parts original and classic.
Casey James Prestwood & the Burning Angels

As a boy Casey grew up in the southeast US. He took interest in Music as a teen and began playing out at the age of 14 in Alabama. After a long stint with the rock band Hot Rod Circuit, in which played guitar and pedal steel, Casey recorded his first country album, The Hurtin' Kind, in 2006. It featured Hot Rod Circuit Drummer Dan Duggins and a group of local players as well as out of town session guests. After half a year of local playing, and sometimes playing at the end of Drag The River sets on the road, Casey did a short tour with Salt Lake City's Alt country band The Band of Annuals. Utilizing their players as back up musicians.
Things had pretty much run it's course, and Casey was nearly done with music before he met Kevin Finn. Kevin was a drummer that had moved to town from Austin Texas. Kevin's musical ability and determination jump started Casey's band now called Casey James Prestwood and The Burning Angels. Now the band is about to embark on another tour out east. They have 3 albums recorded with 2 more in the works. The Burning Angels can be seen in Denver frequently, but play all over the state.
Blue Mother Tupelo
Ricky & Micol Davis are a soulful husband-and-wife songwriting team who perform and record as Blue Mother Tupelo. The music they create is full of paint-peeled, timeworn truth that shines with driving melodies and sweet, southern tones. Between their tight harmonies and authentically spun lyrics, the Davises take listeners down dirt roads to swamp land...to places draped in lace, covered in burlap, bathed in sunlight or shadowed by night. It's Americana roots music that's as ready for radio as it is for next Friday's barn dance. 
Both Ricky and Micol came by their musical inclinations honestly. Micol, a preacher's daughter, polished her natural talents as vocalist, pianist and writer in church choirs and the like. Eventually she earned her degree in music education from the University of Tennessee and set out to make a living making music. 
Ricky's musical family roots set him on the path at a young age. Inspired by rootsy family jam sessions, he was drumming and strumming by age 7 and playing in just about every kind of band imaginable (marching, concert, jazz, cover) by his teen years. He began a degree in Recording Industry Management from Middle Tennessee State University and earned his stripes by forming and playing in a handful of working bands.
Ricky and Micol met in the vibrant music scene in Knoxville, Tennessee. A shared love of music proved to run much deeper; the pair married in 1994 and formed Blue Mother Tupelo a year later. They've been making beautiful music together ever since.