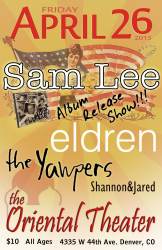 Sam Lee (CD Release)
Eldren / The Yawpers / Shannon&Jared
Time: 8:30pm Day: Friday Doors: 8:00pm Ages: All Ages Price: $10
This Event Has Ended
Sam Lee

"Sam Lee...is the epitome of a storyteller. His lyrics are personal, raw, relatable, and his stage presence is intimate...he is one musician who's name won't soon be forgotten." writes Colorado Musiz Buzz.
A singer/songwriter from Denver, Colorado with a self-professed rock'n'roll complex, Sam Lee is making grass-roots waves both locally and across the country with singles "Secret" and "Burnin' Up" receiving radio play on terrestrial, college and internet radio. His 2011 debut EP, Better Half was recorded at the Blasting Room Studios by lauded Rise Against engineer Andrew Berlin, and produced by Christopher Jak.
In 2010, after several years collaborative projects, Sam began his own independent journey as a singer/songwriter. Today, he is making a name for himself as a compelling lyricist, singer and instrumentalist as well as a true-blue showman. He has shared the stage with national acts like Dia Frampton, Allen Stone, Tyler Ward and Michael McDonald. His first full-length record is set to drop in late 2012.
Sam's songs paint a picture of love and loss, passion and addiction, hope for a better future, life on the road and the power of music to capture a young man's soul. His voice, like that of a young Rod Stewart is alternately crisp and smoky, powerful and soulful. The songs carry hints of classic influences like The Boss, the Doobies and Petty, but ring with the modern flourish and discipline of Lenny Kravitz, John Mayer and Rob Thomas. 
Listening to Sam's songs on record, or seeing him live, begs not the question of whether or not he will become an important part of rock music's new age, but when.
Eldren

Eldren's self produced sophomore album Opium Spores makes its vibrant mark on the drab musical landscape of the 21st century using a broad palette of sonic brushstrokes.  The band's epic psych-pop songs infuse an impressive array of influences and dynamics, incorporating the quirky electro pop catchiness of MGMT, the frenetic balls-to-the-wall prog rock of The Mars Volta, and the innovative complexity of Pink Floyd.  This depth of musicianship and composition translates into mind-blowing live shows and a rabidly devoted following.  Their motto, "we are Eldren and so are you," speaks to the band's ability to transcend genre and appeal to every demographic. In August of 2015, Edren released their 2nd full length album; "Welcome to Deathville"- available on itunes.
The Yawpers

The Yawpers' third album Boy in a Well is a sensational tragedy set in World War I France about a mother abandoning her unwanted newborn child. But, like the band itself, there's so much more roiling beneath the surface.

Recorded in Chicago by Alex Hall (JD McPherson, Pokey LaFarge, The Cactus Blossoms) at Reliable Recordings with production assistance and instrumental contributions from Tommy Stinson (The Replacements, Bash & Pop), Boy in a Well stretches The Yawpers' sound and ambition in challenging, impassioned, and dynamic directions. To follow up their 2015 Bloodshot debut American Man — which Rolling Stone described as mixing "high-brow smarts with down-home stomp" — the trio left the comfort zone of their Denver hometown in September 2016 to record in a city they'd only briefly visited before.

The Yawpers' Boy in a Well is complex; it's a manically conceived, historically situated, emotionally underscored, plot-driven fictive universe. It's demented, unpredictable, taboo, ambitious, and yet distinctively cohesive.