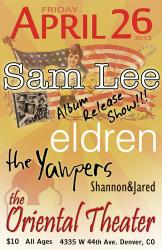 Sam Lee (CD Release)
Eldren / The Yawpers / Shannon&Jared
Time: 8:30pm Day: Friday Doors: 8:00pm Ages: All Ages Price: $10
This Event Has Ended
Sam Lee

"Sam Lee...is the epitome of a storyteller. His lyrics are personal, raw, relatable, and his stage presence is intimate...he is one musician who's name won't soon be forgotten." writes Colorado Musiz Buzz.
A singer/songwriter from Denver, Colorado with a self-professed rock'n'roll complex, Sam Lee is making grass-roots waves both locally and across the country with singles "Secret" and "Burnin' Up" receiving radio play on terrestrial, college and internet radio. His 2011 debut EP, Better Half was recorded at the Blasting Room Studios by lauded Rise Against engineer Andrew Berlin, and produced by Christopher Jak.
In 2010, after several years collaborative projects, Sam began his own independent journey as a singer/songwriter. Today, he is making a name for himself as a compelling lyricist, singer and instrumentalist as well as a true-blue showman. He has shared the stage with national acts like Dia Frampton, Allen Stone, Tyler Ward and Michael McDonald. His first full-length record is set to drop in late 2012.
Sam's songs paint a picture of love and loss, passion and addiction, hope for a better future, life on the road and the power of music to capture a young man's soul. His voice, like that of a young Rod Stewart is alternately crisp and smoky, powerful and soulful. The songs carry hints of classic influences like The Boss, the Doobies and Petty, but ring with the modern flourish and discipline of Lenny Kravitz, John Mayer and Rob Thomas. 
Listening to Sam's songs on record, or seeing him live, begs not the question of whether or not he will become an important part of rock music's new age, but when.
Eldren
A combination of Elderly and Children, meet Eldren, a completely unique, 7-piece indie-rock outfit from the heart of Denver. Always surprising, usually in costume, Eldren is a band known for delivering an incredible live show. A mere six months into their formation the band has been packing clubs, garnering national support slots, and selling out of their debut EP faster than they can get hard copies to the shows.
The Yawpers

A stripped down, brazen rock and roll band from Colorado, accompanied by overdriven acoustic guitars and a trap kit. Inspired by Whitman's promise to "sound my barbaric yawp over the roofs of the world," the Yawpers have created a sound that is equal parts frenetic, earnest, and menacing, all while bringing together disparate pieces of the American musical lexicon.
Though less than three years old, the Yawpers have played hundreds of shows on both coasts, and everywhere in between, and have played with: Dr. Dog, The Cold War Kids, Reverend Horton Heat, Chad Price, Cracker, The Reverend Peyton's Big Damn Band, Joe Buck, Will Hoge and many others.
Following the release of an EP in 2011, their critically well received LP, "Capon Crusade", released in late 2012, debuted at #1 on the Colorado Music Charts, and is now in its second printing.