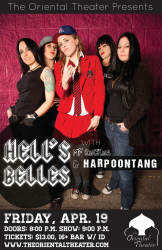 HELL'S BELLES (World Famous All Ladies Tribute to AC/DC)
w/ MF RUCKUS / HARPOONTANG
Time: 9:00pm Day: Friday Doors: 8:00pm Ages: 16+ / Bar with ID Price: $13
This Event Has Ended
Hell's Belles

HELL'S BELLES are first and foremost dedicated AC/DC fanatics. This is what we all have in common. We're all part of a huge community of devotees to one of the greatest rock-n-roll bands in the world. This is who we all are, and this is what HELL'S BELLES strives to deliver with mechanical precision and passionate fury. Endorsed by Angus Young himself (Blender Magazine, 2003), HELL'S BELLES are the closest one can get without actually moving to Australia and joining AC/DC's road crew.
HELL'S BELLES formed in 2000, the brainchild of former member, Amy Stozenbach (guitar), alongside former member, Om Johari (vocals). The current line-up features original member Laura D, heavy hitter as Phil Rudd (drums), Mandy Reed, rock solid and born ready as Cliff Williams (Bass guitar), Lisa Brisbois, sly and subtly intense as part time Malcolm Young, Sharon Needles of Betty Blowtorch/Butt Trumpet fame part time Malcolm Young (Rhythm guitar), all the way from Australia, Amber Saxon the kind of hard rock bombastic power that makes no apologies and is dangerous around the edges as Bon Scott & Brian Johnson (Vocals) and Adrian Conner, dreadlock slinger and wicked as Angus Young (lead Guitar).
HELL'S BELLES are indeed ALL female, all the way to their rock-n-roll cores, all the lime and without exception. Representing for a whole new generation of women that won't be intimidated, HELL'S BELLES actively encourage our legions of lady fans to stand up and be counted, and collaborate with women musicians and causes as a part of the mission towards rock and roll inclusion. Not some down-your-throat feminism, but a proactive support and action spirit towards the continued march towards balancing of the gender scales.
The thousands of shows HELL'S BELLES have played around the world, including Singapore, Japan, Canada, and the good ol' USA (including Alaska), have become legendary nights of epic proportions. Consistently sexy and sold-out shows - there's not a HELL'S BELLES audience that hasn't been blown away by the raw power, attention to AC/DC details, and undeniable appeal that these bad ass belles deliver with undying devotion. From "Live Wire" to "The Jack" to "TNT", not to mention AC/DC's landmark hits "Highway to Hell", "Thunderstruck", and "Back in Black". The marathon set lists change to include a fresh variety of classics, but the perfection and passion of the show never does.
It's an all out rock-n-roll assault that leaves you both satisfied and begging for more. And, more you'll get as HELL'S BELLES keep conquering new cities, new states, and new countries. They'll be in your back yard bringing AC/DC in sound and spirit to you direct any day now. 2005's studio recordings, "We Salute You", are slated to be refreshed with a whole new set of songs and available to our public this year, so you can always count on taking a little piece of HELL'S BELLES home with ya.
HELL'S BELLES - committed, ferocious, meticulous women rock musicians delivering authentic ACIDC to the unbelievably supportive and wicked awesome fans. All day and all night long, all over the world, pitch perfect AC/ DC delivered with a highly charged vigor by Amber, Mandy, Laura, Lisa, Sharon and Adrian 'Angus'.
Let there be rock!
MF RUCKUS

Rock n Roll, Blues, Southern Rock, Soul
Members: Aaron Howell- Vocals/Harmonica, Tony Lee "The Windy City Mad Man"- Lead Guitar, Tay Hamilton "The 6 String Savage"- Lead Guitar, Jerry Cass- Rhythm Guitar, Logan O'Connor- Bass, Tyrell Blosser- Drums
Harpoontang

"It started as a total joke," says Sarah Anderson of Harpoontang, the outfit which also includes the trio of Paper Bird vocalists, Laura Goldhamer and M & the Gems singer Maria Kohler (also known as Kitty Crimes). "But every time we practiced, something just took over." The same can actually be said for Harpoontang's live shows, which take on an almost vaudevillian style of musical comedy, transforming the girls into purveyors of the most raunchy, gasp-worthy songs -- all delivered with an innocent wink. "It's like when little kids talk about sex," notes Esme Patterson, "before they actually know what all those parts do."
 The story of Harpoontang extends almost as far as Paper Bird. Back in the spring of 2007, Laura Goldhamer had booked Paper Bird as a last minute act for the first of a long string of shows she curated at the Brooks Center for Spirituality. Hitting it off as friends and collaborators, Laura Goldhamer and Paper Bird soon became a familiar sight on handbills and fliers.
The team quickly learned they also shared a passion for lascivious comedy -- a trait not often found in the music they'd been making in their full-time bands. "We all share the same sense of humor," Anderson points out. "And when we start writing songs, we all had the same ideas. We'll all be laughing on the ground so hard. Some people get it, and some people don't. It's like therapy for me. There's this thing that wants to come out, and when it comes out, it feels so good. There's no statement. It's just, 'Let's get weird."
Back in 2008, when Harpoontang was still little more than an inside joke between friends, Paper Bird and Laura Goldhamer traveled up to Fort Collins to play a show in an old school house with Ian Cooke (another consistent character in their merry circus). In attendance was a young Maria Kohler, who would befriend the groups and -- over the next year -- slowly but insistently infiltrate Harpoontang. "Every cell in my being screamed 'I have to be in this band,'" Kohler recalls. "It was like, 'Tang, Tang, Tang, Tang...'"
"It took me a second to warm up to her," says Laura Goldhamer. "I was not sure about Maria. There were lots of people who were like, 'I have to be in your band!' And we were like, 'No!' But Maria was a good idea: She plays drums and guitar like nobody's business."
Seeing the ladies of Harpoontang do their thing, it is nearly impossible not to fall apart with laughter. Whatever fantastic lewdness is repressed in these girl's other musical projects suddenly gets let loose like a pack of wild spider monkeys at a royal gala. While the most memorable tunes have titles like "I Want My Hymen Back" or lyrics about safe sex with Santa ("He knows where you've been/But you don't know where he's been/So wrap it up"), Esme insists that Harpoontang is more than just a group of rabid felines in heat. "That might be the thing that is arresting to people," she concedes, "and they react to it more than other things. But we talk about Oprah a hell of a lot more than we talk about sex."
-Josiah Hesse (Westword)  
http://harpoontang.bandcamp.com/