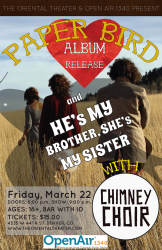 OpenAir 1340 Presents:
Paper Bird (Album Release) w/ He's My Brother She's My Sister
also: CHIMNEY CHOIR
Time: 9:00pm Day: Friday Doors: 8:00pm Ages: 16+ / Bar with ID Price: $15
This Event Has Ended
Showtimes
10:00 pm
He's My Brother She's My Sister
Paper Bird

For Paper Bird, their new album marks a milestone. More importantly, it provides them with a new beginning, a new chapter in their trajectory that sees them redefining their direction, a change in their musical sensibility while maintaining their trademark upbeat attitude.
The band's self titled album, available September 9th on Thirty Tigers Records/ Sons of Thunder Records, introduces vocalist Carleigh Aikins to the line­up, whose previous credits include extended stints with the critically acclaimed bands Bahamas and Fox Jaws. Her addition to the band adds an extra edge, highlighting a clear sonic evolution. A shift in the band's line­up has opened up new possibilities, swapping electric guitars and amped up instrumentation for the laid back, folk­flavored sound they favored in the past.
"In truth this is an entirely new band," bassist Caleb Summeril explains. "With Carleigh coming on board, we've literally made a fresh start."
Guitarist Paul DeHaven first met Aikins at a concert on Willie Nelson's ranch during South by Southwest in 2012. The two hit it off, and before long Aikins and the rest of the band began collaborating long distance via email. "It was serendipitous that we could join forces so seamlessly," says Aikins. "We created an instant bond and a new sound we can all stand proudly behind; which merges our respective influences from the Canadian and American music we were raised with. Everyone's input is welcome here and everyone has their moment to shine, in the true democratic sense and tradition of a band."
Paper Bird has always made a point of encouraging each of its members to share the spotlight. The group boasts three lead vocalists ­­ singer Sarah Anderson, singer and keyboard player Genevieve Patterson, and Aikins herself ­­ all of whom blend their voices in seamless three part harmonies. The instrumental duties are shared by Summeril, DeHaven, and drummer Mark Anderson.
Hailing from Denver, Colorado, Paper Bird first emerged from the same environs that launched such outfits as Nathaniel Rateliff and the Night Sweats and the Lumineers. The group has toured extensively throughout the U.S., sharing bills with the aforementioned bands, as well as Daryl Hall & John Oates, Edward Sharpe and the Magnetic Zeros, and Shakey Graves.
On Paper Bird, the band collaborates with world­renowned musician, singer and songwriter John Oates, who co­produced the album with Aikins' fellow Canadian David Kalmusky. The album was recorded and mixed at Addiction Sound Studios in Nashville, and for his part, Oates couldn't be more delighted.
"Paper Bird is a band that possesses a sound that's more than the sum of its parts," Oates effuses. "It's the coming together of two perfect trinities. It has three distinctly unique female lead singers whose harmonies blend together as one...united with an inventive, cohesive rhythm section trio. I loved their sound from the first time I heard them and they just keep getting better. They are a true musical family united by a unique and pure artistic vision...a rare quality in this day and age of so much disposable and less than original music."
Paper Bird has a sound that blends the engaging vocal harmonies of Fleet Foxes and The Lone Bellow with the classic '70s stylings of bands like Heart and Fleetwood Mac without imitating or emulating any one of them in particular. Indeed, the new music is rugged, resilient and flush with enthusiasm. It conveys the essence of inspired Americana, while still staying true to its riveting rock regimen.
The album starts with the soulful strut of "To The Light," and heads into desire and yearning with the single "Don't Want Half." With its playful harmonies and rhythms, "I Don't Mind" captures the ephemeral feelings of love, as "it's not easy to be a dreamer, when you're sleeping with the wind." Paper Bird merge the musical past with the present on "Sunday," conjuring up doo-wop, rock and groove sounds.
"This is definitely the start of something exciting," Summeril suggests. "We're at a point in our career where we feel we're ready to take on the world."
He's My Brother She's My Sister
If you have yet to catch He's My Brother She's My Sister live, come see why they have been called "delightfully original" (Indieshuffle) and "forward thinking folkies forging new ground"(New Times).
He's My Brother She's My Sister is like a time warp to the golden present, wrapping nostalgia around the here and now with throwback flair and good taste. They make debauchery and estrangement so glamorous. The songs are as catchy as a radio pop jam, but throw off the trappings of plastic pop and wrap you in fur, folk, and the last drops of moonlight. (LA Record, February 24, 2010)
[Their] voices mingle like glamour in the desert" and serve up "party music for coyotes drunk on champagne," (LA Weekly).
"Their mojo (has) the power to heal the afflicted" (LA Deli Magazine).
Chimney Choir


Chimney Choir's new album, (compass), is music played on banjo, fiddle, guitar, and piano and sung in three part harmony. It is layered with electronic drones, field recordings, and conversational rhythms played on junk percussion. The songs were born on the road - it was sketched out, improvised, jammed, performed, scrapped, and reinvented over months of touring in the US, Germany, Holland, and Belgium. They were hashed out around campfires in between gigs, sung in the van during long stretches of driving, and tested in front of a new audience every night.
When the recording process started, the band wanted to capture a unique sonic character. The drums were tracked in an historic 1920's theater, they sang in a makeshift vocal booth in an urban carriage house, and retreated to the mountains for the finishing touches. They incorporated field recordings from Belgian train stations, Kris picked back up her childhood fiddle, and a new dimension was layered with the bass of Tom Plassmeyer. Their vision of bringing together acoustic and electronic sounds was developed while mixing with co-producer Jeremy Averitt (Princess Music, Clouds and Mountains.
(compass) was released over four months in a series of semi-theatrical performances at Leon Gallery in Denver, CO. Each monthly performance investigated a cardinal direction in hope to 'find the compass.' The performances were inspired by minimalist Fringe theater, where production was suggested or even imaginary. The shows experimented with sound collage, storytelling, puppetry, dance, and ritual. They lit candles, burned incense, and painted their faces. "We're establishing dreamlike environments where the audience can't really tell the show from reality after a certain point." Rynhart said of the performances. The final episode took place on June 23rd with the full release of (compass). The album was 'found' during a mock game show within a show at an antique warehouse near Denver's Valverde neighborhood, built on an old farm site that was once known for producing the world's best celery.
Comparisons have been as far flung as Harry Nilson, The Fleet Foxes, Sufjan Stevens, Incredible String Band, Kurt Weill, and David Bowie. The band is currently working on a multi-media performance art show centered around the discovery of an inter-dimensional communication device. There are also plans to release an acoustic folk album and rumors of a collaboration with Wonderbound, the experimental ballet company based in Denver. One thing is for certain - Chimney Choir squints into the future because it is so bright.
"Denver-based Chimney Choir is more than just a group of talented multi-instrumentalists looking to evoke an old-timey sound. They are an artistic oddity; a unique homemade collage of sound. Yes, they have the usual roots laced deep in the soil of Americana and folk, though, the character of their melodic folk sound hinges largely on a skillful balancing of freaky vocal interplay with computer synths, traditional acoustics and kitchen sink percussion. Original, catchy and ripe with a strangely warm and welcoming aesthetic"
- Flagstaff LIVE (March, 2013)
Kevin Larkin - mandolin, samples, percussion, harmonica, accordion, synth, vocals 
Kris Drickey - banjo, keyboards, guitar, violin, percussion, vocals 
David Rynhart - guitar, flute, piano, percussion, vocals 
Carl Sorensen - shakers, bottles, cans, random metal objects 
Tom Plassmeyer - bass