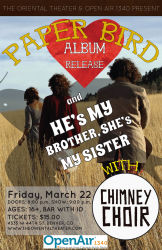 OpenAir 1340 Presents:
Paper Bird (Album Release) w/ He's My Brother She's My Sister
also: CHIMNEY CHOIR
Time: 9:00pm Day: Friday Doors: 8:00pm Ages: 16+ Bar w/ID Price: $15
This Event Has Ended
Showtimes
10:00 pm
He's My Brother She's My Sister
Paper Bird

Paper Bird's backbone is their songwriting, musicianship and a general allergy to all limitations and trends. With seven members and no leader, possibilities are ever unfolding, with fluctuations in style and mood akin to weather patterns.
When asked what genre of music they play, they answer "joyful." The seven-piece band consists of three female singers, accompanied by banjo, guitar, stand-up bass and trombone. Young in age but timeless in spirit, Paper Bird continually captures the hearts of new listeners and long-time fans. Their rare and beautiful approach to music led them to be featured on NPR's All Things Considered and they were voted in the Top 10 Best Underground Bands by Denver Post two years in a row, as well as 5280's Top of the Town 2009 "Top Local Band". In the last year they have played Red Rocks Amphitheater to an audience of over 8000 people and have shared the stage with Devotchka, Judy Collins, Grace Potter & the Nocturnals, Glen Campbell, and Big Head Todd & the Monsters. Their haunting and authentic sound is a refreshing and breathtaking blend of folk, jazz, bluegrass and rhythm and blues.
The members of the band- Sarah Anderson, vocals and trumpet; sisters Esmé and Genny Patterson, vocals; Paul DeHaven, guitar; Caleb Summeril, banjo; Macon Terry, upright bass; Mark Anderson, percussion – create a smooth sound that pushes the boundaries of the modern day music scene.
The band's inception came a few years ago in Breckenridge, Colorado. They wrote a song as a cure for cabin fever, and tested playing it standing on a street corner, where they earned a few dollars and decided to form a band. Shortly after they went into the studio and recorded their first self-released album Anything Nameless and Joymaking (2007), which has been a top selling record in local retail stores since its release. Following releases include: A Sky Underground (2009), When the River Took Flight (2010), and Carry On (2011).  
http://www.facebook.com/paperbirband?ref=ts
https://twitter.com/paperbirdband
He's My Brother She's My Sister
If you have yet to catch He's My Brother She's My Sister live, come see why they have been called "delightfully original" (Indieshuffle) and "forward thinking folkies forging new ground"(New Times).
He's My Brother She's My Sister is like a time warp to the golden present, wrapping nostalgia around the here and now with throwback flair and good taste. They make debauchery and estrangement so glamorous. The songs are as catchy as a radio pop jam, but throw off the trappings of plastic pop and wrap you in fur, folk, and the last drops of moonlight. (LA Record, February 24, 2010)
[Their] voices mingle like glamour in the desert" and serve up "party music for coyotes drunk on champagne," (LA Weekly).
"Their mojo (has) the power to heal the afflicted" (LA Deli Magazine).
Chimney Choir
Denver's Chimney Choir is a collaboration of three seasoned and distinctive voices in Colorado music. Multi-instrumentalists Kevin Larkin (mandolin, harmonica, accordion, sampling), David Rynhart (Guitar, flute, piano) and Kris Drickey (banjo, guitar, percussion) combine dynamic vocal harmonies, epic arrangements and imaginative lyrics into their songwriting. An impromptu tour of the South in the fall of 2010 formed an instant musical synergy, leading Larkin to relocate to Denver soon after. The trio has been refining their sound in performances throughout the Southwest.