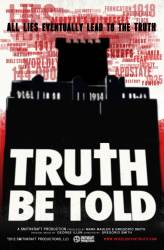 Truth Be Told (Documentary Film Screening)
Denver premiere - one night only!
Q & A with director Gregorio Smith after the film!
Time: 7:30pm Day: Monday Doors: 7:00pm Ages: All Ages Price: $10
This Event Has Ended
ABOUT FILM
TRUTH BE TOLD is a feature length documentary that  explores the lives of several individuals raised in the Jehovah's Witnesses religion. The title of the film refers to the tendency by Jehovah's Witnesses to regard their beliefs exclusively as 'the truth'.
'The documentary is not an indictment of religion but rather a retrospective. In a series of informal interviews, former Jehovah's Witnesses discuss life experiences within the organization including the impact the religion had on their childhood and family, schooling, adolescence, and approaches to dating and marriage. The film also explores how being raised in that religion has shaped their spiritual beliefs and attitudes.'
http://www.hereliesthetruth.com/ 
https://www.facebook.com/hereliesthetruth
Gregorio Smith is an independent filmmaker and writer. His work has been featured in the Parish Film Festival, Staten Island Film Festival, Anthology Film Archive, Dallas Video and Film Festival, Denver Underground Film Festival, Bowery Poetry Club and other forums. His work has also appeared in the New York Times.
He is a graduate of Baruch College and a member of the International Documentary Association.
Select Filmography:
Staten Island Catapult (2005)
Bootleg This Movie (2007)
SKIN:DEEP (2008)
Birds (2009)
SMITHKRAFT PRODUCTIONS, LLC an independent multimedia production company was founded in 2009 and is headquartered in Brooklyn, New York.