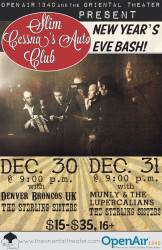 CPR's Open Air 1340AM Presents
SLIM CESSNA'S AUTO CLUB
Munly & the Lupercalians / The Sterling Sisters
Time: 9:00pm Day: Monday Doors: 8:00pm Ages: 16+ / Bar with ID Price: $25 - $35
This Event Has Ended
Showtimes
11:00 pm
Slim Cessna's Auto Club
10:00 pm
Munly & The Lupercalians
9:00 pm
The Sterling Sisters
Slim Cessna's Auto Club

About Slim Cessna's Auto Club
Engaging, riveting, sad and humorous; demanding the audience to participate both live and while listening to their albums; Slim Cessna's Auto Club has been branded with every musical description possible.This seems fitting, as SCAC describes their music as American (Is that not what America is and has been, a mixture of every one and thing resulting in something new?); and after two decades of working and living as SCAC, they have created their own genre.
The instruments are drums, upright bass, pedal steel, banjos, piano, guitar, vocals and stories. They have recorded critically acclaimed albums (Village Voice, Denver Post, San Francisco Chronicle) on Jello Biafra's Alternative Tentacles label. Spin Magazine and No Depression have described them as the best live band in America. The songs are each thoughtfully crafted with unique arrangements, executed by superb musicianship, then fully realized through original, insightful and intelligent lyrics. With two of the most charismatic frontmen around (Westword) and four accomplished musicians, SCAC is the past, present and future of American music.
Please read some nice things that have been written about Slim Cessna's Auto Club:
JELLO BIAFRA
"This is the country band that plays the bar at the end of the world."
SPIN MAGAZINE ONLINE
"...the best band at SXSW was Slim Cessna's Auto Club..."
ROLLING STONE, GERMANY
"What energy and soul!"
GADFLY MAGAZINE
"For years, the Auto Club has been considered the best live band in Denver. Hell, they might be the best band in America as well!"
SAN FRANCISCO CHRONICLE
"Twice the power and energy of those Nick Cave shows."
PHILADELPHIA WEEKLY
"Truly an original, this band can go uptempo, downtempo and straight off into the stratosphere."
SPLENDID
"... they're gradually staking their a claim as one of the era's greatest bands. Their recognition of country's roots, their spectacular musicianship, their willingness to experiment and their unmatched ability to craft unique, convincing narratives about characters who exist at the edges of our national consciousness come together to make music that is truly stunning, and that you won't find anywhere else."
AQUARIUS
"If I had to be stuck in a bar, forever with only one band playing nightly, it would definitely be Slim Cessna's Auto Club."
Munly & The Lupercalians

Munly is a banjo player, guitarist, singer, and songwriter based in Denver, Colorado. He has played a significant role in the development of the "Denver Sound", music that mixes elements of country, Gothic, folk, and gospel. He is a member of Slim Cessna's Auto Club and Denver Broncos UK as well as the leader of his own band, Munly and the Lee Lewis Harlots. Prior to working with the Harlots, Munly released several solo albums recording with a vast array of musicians. Some of these performers included members of Slim Cessna's Auto Club, Devotchka, and future members of Munly and the Lee Lewis Harlots. In July 2006, Munly and the Lee Lewis Harlots was voted the best band in Colorado by over 100 music experts in the Denver Post Underground Music Poll.
Munly is also a published author who has received the Southern Heritage Award and the Young North American Playwright Award for his work. Munly's music has ties to alt-country and Gothic-Americana. Common themes include religion, violence and dysfunctional relationships; often they are intertwined. His increasingly narrative songs often feature banjo and, since the recording of Jimmy Carter Syndrome, strings.
The Sterling Sisters

"...Baltimore's Sterling Sisters, a group that makes some obvious nods to 16 Horsepower and other Old-Testament invoking Goth-country bands. [With their] fiddle, guitar, banjo, drums, and a bassist endowed with a rafter-shaking operatic voice, the sound is full and commanding... They have a knack for the crescendo, taking plaintive country melodies and building them up into full on orchestrated barn-burners. I will admit that the lead singer's string bow-tie really brings it all full circle for me; he's like a singing cowboy that comes to you while you're trippin' balls." Kevin Wesser, What Weekly 2012