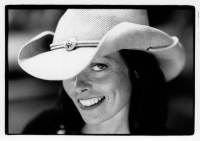 Rachel Harrington w/ Elliott Moonshine & the Ghost
Time: 9:00pm Day: Friday Doors: 8:00pm Ages: All Ages Price: $5
This Event Has Ended
Showtimes
9:00 pm
Rachel Harrington
9:00 pm
Elliott Moonshine & the Ghost
Rachel Harrington

Imagine Loretta Lynn playing Otis Redding songs in a garage in Seattle – in 1963. That gets you somewhere near the new territory being scouted out by country soul sensation Rachel Harrington as she heads for the hills with her 4th album, a collection of all-new, all-original, old-school country ballads, western honkytonk swing, and early rock n' roll. 
Harrington's wrangled up three other gals and put together a brand new all-girl honkytonk band to support the album. Based in Seattle, The Knock Outs are comprised of bass, drums, fiddle, and guitar. In addition to songs from the brand new record, the live show includes some of the girls' favorite country and rockabilly covers to boot.
Rachel has played major festivals throughout Europe and the US, made three live appearances on BBC's legendary Bob Harris Show, and reached millions of listeners through airplay at Starbucks. A 2011 winner in Merlefest's esteemed songwriting contest (previous winners include Gillian Welch and Tift Merritt), Rachel Harrington is taking The Knock Outs to Europe to launch the new album in March & April, with a US release later in 2012. Rachel's 4th album, "Makin' Our House A Honkytonk," officially releases in the US on June 19, 2012.  Buy it here: http://cdbaby.com/cd/rachelharrington   Rachel will tour (as a duo) in the US behind the new album.  New live dates coming in each week - stay tuned.
INCOMING REVIEWS FOR THE NEW ALBUM:
Maverick Magazine ~ 5/5 stars.  "As country as country gets!"
Fatea Records ~ "Loretta Lynn? Move over and make way for your natural successor to take centre stage."
Q Magazine ~ "Harrington makes Neko Case sound like Olivia Newton John"
Lonesome Highway ~ "Powerhouse lead vocals ... her delivery is spot on making this a must have for lovers of that classic country sound, a sound that is fresh, alive and beating. One that could scare Country Radio right out of it's trainers."
Electric Ghost ~ "1960's pre-countrypolitan Nashville ... the closest thing you'll hear to a new Loretta Lynn album since Loretta was a 29 year old grandmother"
Country Music People Magazine ~ 4 stars: "A real cracker of an album!"
American Roots Uk ~ 4 stars: "It is albums such as this that Gram Parsons was referring to when putting down 'country rock,' instead preferring the more coverall term 'Cosmic American Music' ... he would have loved this superb recording!"
Blabber n' Smoke ~ "diving straight in at the deep end ... Harrington has made a raunchy country album that one could imagine the likes of Loretta Lynn might produce if she were 50 years younger."
Rock and Reel ~ "Sharply observed songs with attitude to burn!"
The Irish Times ~ 4 stars: "Remember that nice Rachel Harrington and her quiet, contemplative country music from the Oregon hills? Well, you should hear her now that she's fallen in with the honkytonk crowd. What a mouth!"
Mad Mackerel ~ "an album of pure, unbridled honky-tonk Country music. Sure there are some echoes of garage rock, some soul leanings and a smattering of Phil Spector-ish doo-wop, but at its heart this is pure Country and all the better for it."
Pennyblack Music ~ "the boot-stompin' world of backwoods country, like [they used to do it] back before the big Nashville names sanded off all the edges."
Whisperin and Hollerin ~ "live, sassy and colourful. High-octane, Burritos-style garage-roots" 
Elliott Moonshine & the Ghost

 Rising Denver band Elliott Moonshine & the Ghost are bringing their hard-hitting, dark,folk music to a venue near you! Their fans have dubbed it "Goth Country", "Heavy Bluegrass" and "Nick Cave meets Led Zeppelin !" Their original music is based on Nicolas Busquet's storytelling lyrics that flows with a truthful darkness about human beings' interaction and struggle with love, religion, addiction, alienation and truth… or deception, depending on your viewpoint! He has given up the electric guitar for more tonal instruments that compliment his message. The dobro, ukulele, banjo, and mandolin are played beautifully but with demanding aggression. The foundation of the band consists of Chris Ringwood (Bass) with his perfect time keeping and melodious bass rifts. Tyler Garn (Keyboard, Guitar, Songwriter) provides the harmonic backbone with his tasteful ivory sweeps. The heavy hitting drummer, Chris (Pelon) Helvey brings a heartfelt, Bonhamesque groove, with intricate drum fills placed perfectly in the song. This is a new sound not to miss! Look for their new album "Noir" on I -Tunes and at their website www.elliotmoonshine.com