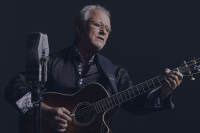 Swallow Hill Music Presents
Jesse Colin Young
Time: 8:00pm Day: Tuesday Doors: 7:00pm Ages: All Ages / Bar with ID
This Event Has Ended
Showtimes
8:00 pm
Jesse Colin Young
Jesse Colin Young
With songs like Darkness, Darkness, Lightshine, Sunlight, Sugarbabe, Songbird and The Youngblood's version of Get Together, Jesse Colin Young has influenced and shaped the character of American music for over 50 years. Discovered in 1961, Jesse Colin Young had a serious solo career, showcasing his vocals and guitar work, with 2 records, Soul of a City Boy ( Capitol) and Youngblood ( Mercury), before he formed his folk rock band The Youngbloods in 1965. The Youngbloods made 5 records on RCA (Sony BMG ) and 5 records on Warner Brothers before Jesse went on to make 16 more records (Warner Brothers, Electra, Polygram ) in his expansive solo career. Jesse has always responded to the world around him with a clear voice and focus that touches on our humanity. His style is now considered Americana, but in fact it's his unique fusion of folk, rock, jazz and blues with an emphasis on his extraordinary voice that makes his signature sound.
The Youngblood's version of "Get Together" has been heard by millions from the Forrest Gump soundtrack in 1994, Cats and Dogs: Revenge of Kitty Galore, Fear and Loathing in Los Vegas, The Simpsons "Oh Brother where Bart thou" and "Tree of Horror II", and South Park's "Smug Alert". "Get Together commercials" include The Pepsi commercial for the 1995 Super Bowl, the Luv's commercial in 2010, Kentucky Fried Chicken in 2014 and Blue Diamond Almond's commercial 2017. And the Walmart commercial, "One Table" with Get Together, aired right after the deadly Charlottesville protests in Aug 2017. The Youngblood's version continues to be a healing balm on the wounds of society.
"Darkness Darkness", written by Jesse, was in Jack the Bear (1993), chosen as the theme song for the James Cameron movie Ghosts of the Abyss (2003) and was in the trailer of TV series Bloodline (2015). A cover of the song by Robert Plant won the Grammy for Best Rock Vocal in 2002. Many still cover it today.
2018 is going to be a great year for Jesse. The inspiration and connection with these young musicians, including his son Tristan, in his new band has brought about so many unexpected possibilities. Aside from the extensive touring, Jesse and his band will be recording at the Sound Emporium in Nashville TN with producer Colin Linden in March. Armed with new songs and compelled to speak about these times, Jesse weaves his special brand of music informed by jazz, blues, rock , and Americana to create a compelling body of work for today's listener.
In addition Jesse owns a small Kona coffee farm on the Big Island. The farm is USDA certified organic and the roasted coffee, called Morning Sun, ships to customers around the world Sept thru Dec of each year.
In the spirit of Pete Seeger Jesse has supported many groups since the 1960's: Coal Miners, Veterans, Children, No Nukes and other environmental groups. He continues to do this whenever time allows.