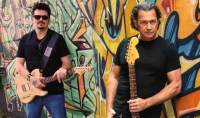 An Evening With...
Six Strings Down featuring Tommy Castro, Mike Zito, and The Pain Killers
Time: 8:30pm Day: Thursday Doors: 7:30pm Ages: 18+ / Bar with ID Price: $30 - $200
This Event Has Ended
An evening with...
SIX STRINGS DOWN featuring Tommy Castro /Mike Zito / and The Pain Killers
Showtimes
9:00 pm
Tommy Castro and the Painkillers
Tommy Castro and the Painkillers

"Phenomenal and funky...soulful vocals and inspired blues-rock guitar" – The Washington Post 
"An inspired blend of high-energy blues, R&B and roadhouse rock…soulful, celebratory vocals and exquisite, stellar guitar" —Blues Revue 
Over the course of his career, guitarist, vocalist and songwriter Tommy Castro – a six-time Blues Music Award-winner – has played thousands of shows to hundreds of thousands of ecstatic fans. Castro, along with his band, The Painkillers -- bassist Randy McDonald, keyboardist Michael Emerson and drummer Bowen Brown -- plays music that is guaranteed to fill the floor and raise the roof. With seemingly telepathic musicianship, the Painkillers bring an unmatched passion to Castro's blue-eyed California soul and hard-rocking, good-time songs. Delivering the songs from his brand new Alligator release, Stompin' Ground, Castro both looks back with autobiographical originals and cover songs that inspired him, melding contemporary lyrics with blistering blues-rock. No Depression says, "Castro plays gritty, string bending blues like a runaway soul train…a glorious blend that rocks the soul and lifts the spirits."

Mike Zito

BEAUMONT, TX – On "The Road Never Ends," the second track of Mike Zito's new June 11 CD, Gone to Texas, he cranks things into the stratosphere with a sonic blast of electric slide guitar and blistering vocals, accompanied on vocals and harmonica by the great Delbert McClinton. Also along for the ride on his label debut solo CD for Ruf Records are special guests Sonny Landreth on guitar, Susan Cowsill on vocals and Lewis Stephens (Delbert McClinton, Freddie King) on keyboards. Zito expertly matches them with his core band, The Wheel: Jimmy Carpenter – sax and guitars; Rob Lee – drums; and Scot Sutherland – bass. The result effectively announces one of the most exciting and highly-anticipated new releases of the year.
Recorded at Dockside Studios in Maurice, Louisiana, Gone to Texas was produced by the Beaumont, Texas-based Mike Zito and engineered by long-time New Orleans notable David Ferrell, giving the album's mix a decided Crescent City bent, while embracing Zito's Texas blues and roots influences. "Rainbow Bridge," aided and abetted by some killer Sonny Landreth guitar work and soulful Susan Cowsill vocals, sounds like a long-lost Little Feat song. The lead-off title track is an autobiographical tale of redemption and catharsis for Zito, who literally lived the tale, with a bit of an Allman Brothers musical twinge. "Subtraction Blues" deals with a man whose dealings with his woman "just don't add up," spiced with a funky Second Line feel. "Take It Easy," one of the two non-original tracks on the CD, is Zito's soothing take on the Delbert McClinton-penned ballad. The other cover is Mike's unique version of Beaumont's own Blind Willie Johnson's "Let Your Love Shine on Me." And on "Texas Flyer," he salutes the legendary "Texas Cannonball" himself – Freddie King – in the best way possible: with a flurry of stinging blues guitar leads that are still hanging somewhere over the Lone Star State.
Make no mistake about it, Gone to Texas IS a very special – and personal – album for Mike Zito.
"Texas saved my life. Sounds a bit dramatic, but absolutely true," says Zito. "Historically, Texas has been the saving grace of many desperate men. In the early 1800s, men who had large debts or committed crimes would run off to Texas to hide from the colonies and their creditors. This was called 'Gone to Texas.' New Spain (Mexico at that time, including Mexican Texas) took in all the runaways and vagabonds it could hold. Many of these men found a new life in what would be Texas, returned for their families, paid their debts off, only to fight and die for the freedom of Texas from Spanish rule.
"Texas was my last stand as well. I ended up there after running away from all of my problems and mostly myself. I left on the Greyhound bus and got off in Texas, leaving my family behind. My drug addiction is no secret and Texas is where I confronted my problems and made a change that has saved my life. I met a woman who lived in Texas years before and was spiritually drawn to her. She has stood by my side though it all and has given me the love and support I needed to stand on my own two feet. South East Texas has taken me in and given me a new life. This is a much different place than the south side of Saint Louis where I grew up. They all take it for granted around here, but it is a very unique place in the world."
For Zito, the band he put together for the Gone to Texas sessions – The Wheel – is also special to him. "These musicians were hand-picked over the years," he states. "These are some of my favorite musicians on planet earth; my dream band. We all have one thing in common: make the music feel good! It is no surprise that this most important album to me is being released on Ruf Records. I have wanted to be a Ruf recording artist since 1998. Thomas Ruf and I have tried many times to get together over the years but the Universe wasn't ready for us until now!"
This March Zito unveils his next disc, "Make Blues Not War"...with a Cd Release here at The Oriental...we hope to see you here for it!
Since 2012, Mike Zito has also been a founding member of his OTHER band, Royal Southern Brotherhood, along with Cyril Neville, Devon Allman, Charlie Wooton and Yonrico Scott; and while he continues to record and tour with that band of brothers, he'll also be doing shows with The Wheel throughout the rest of the year in support of his solo album. He's managed by Reuben Williams of The Thunderbird Management Group (985-798-5665; thunderbird@viscom.net); and is booked by Piedmont Talent (www.piedmonttalent.com).
Mike Zito has been a rising star in the blues/roots world for the past several years as a performer, songwriter and producer. In 2010, the title-track for his Pearl River album, which he co-wrote with Cyril Neville, won the Blues Music Award as "Song of Year;" and he also produced last year's BMA winner for "Best New Artist Debut Album" by labelmate Samantha Fish. His last solo CD, Greyhound, was nominated for "Rock Blues Album;" and he's currently nominated as a member of Royal Southern Brotherhood in the same category for that band's eponymous debut CD at the upcoming Blues Music Awards in May.