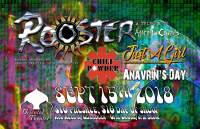 90's Alt-Rock Night at The Oriental Theater!
W/ Rooster, Chili Powder
Just A Girl, and Anavrin's Day
Time: 7:00pm Day: Saturday Doors: 6:00pm Ages: 18+ / Bar with ID Price: $16
This Event Has Ended
          Rooster: Rooster is a live, full power and acoustic tribute to Alice In Chains. Unplugged and Electric, playing raw and genuine             sounds from one of the best bands in modern Hard Rock!
https://www.facebook.com/RoosterAliceTribute/
Chili Powder: Chili Powder -We are a Red Hot Chili Peppers tribute band based in Denver, Colorado. Playing all of your favorites!
https://www.facebook.com/chilipowdertribute/ 
Just A Girl: Just A Girl isn't just one of Denver's top tribute bands- it's Colorado's ONLY No Doubt Tribute.
No Doubt may have broken up, but you can still get your fix of all your favorite songs with Just A Girl. They are an accurate reproduction of the No Doubt experience. Just A Girl performs the pop/ska/reggae songs you remember from the 1990's and a few Gwen Stefani hits from present day.
https://www.facebook.com/justagirltribute/  
Anavrin's Day: Anavrin's Day is a Denver based cover band that was formed in 2018 by Jonathan Cernan (JC). His goal was to collaborate with other musicians to pay tribute to the grunge/alternative music he loves from the 1990's. Wanting to be able to play some of the most difficult songs of the era, finding likeminded professional musicians was key. Spot on vocal harmonies and instrumentals is what makes an Anavrin's Day performance stand out above the typical cover band.
https://www.facebook.com/AnavrinsDay/