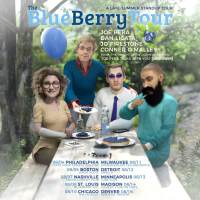 The Blueberry Tour w/
Joe Pera, Jo Firestone, & Conner O'Malley
Time: 8:00pm Day: Thursday Doors: 7:00pm Ages: 18+ / Bar with ID Price: $15 - $20
This Event Has Ended
Hello, it's berry season so we thought we'd do some shows.  Each show will feature good standup from Joe Pera (Adult Swim), Jo Firestone (The Tonight Show), and Conner O'Malley (Seth Meyers) - all writers and actors from Adult Swim's 'Joe Pera Talks With You'.  
You're probably concerned  - are these actors doing standup?  That is definitely something to be afraid of but no, we're standups who made a show and have good solid jokes and promise that afterwards, you will feel like you spent your time and money well. We know that August evenings are valuable but please come, you have our word that it'll be a good and funny time. 
Joe Pera - In addition to creating and starring in 'Joe Pera Talks with You', Joe has performed standup on 'Conan', 'Late Night with Seth Meyers', and 'Comedy Central'.
Jo Firestone - Jo Firestone is a comedian based in Brooklyn.  Her work can be seen on The Tonight Show with Jummy Fallon, The Chris Gethard, and heard on Earwolf and WFMU. Her half hour special aired on Comedy Central this year and her album will be available on Comedy Central records this winter.
Conner O'Malley -  Conner O'Malley has written for and performed on 'Late Night with Seth Meyers' and 'Joe Pera Talks with You'.  He's also appeared on Broad City and created a pilot for Comedy Central.