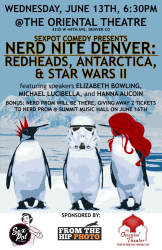 Sexpot Comedy Presents
Nerd Nite
Redheads, Antarctica, & Star Wars II
Time: 7:00pm Day: Wednesday Doors: 6:30pm Ages: 18+ / Bar with ID Price: $6
This Event Has Ended
If you are a fan of TED talks, the Discovery Channel, Wikipedia binges, and drinking, Nerd Nite Denver is the show for you!
 **Online ticket sales end (or sell out) at 6:00pm on the day of the show but plenty are still available at the door.**
 LINEUP
Red Heads – Believe It or Not! by Elizabeth Bowling
You're probably aware that redheads are the least common hair type in the world; but did you know that redheads were once believed to be descended from an alien race or that they become vampires when they die? A data visualization specialist by day and a natural ginger at heart, Elizabeth Bowling helps us explore redheads through science, folklore, and history.
 Antarctica: Science on Ice – by Michael Lucibella
Antarctica is the highest, driest, coldest, windiest and emptiest continent on Earth. Find out how penguins and seals manage survive on the harshest continent, where on planet Earth is the most like Mars and why the South Pole is one of the best places for astronomy in the world. Mike Lucibella is the editor of the Antarctic Sun, the official newspaper of the U.S. Antarctic Program. He's deployed to "The Ice" three times, spending more than three months on continent each time.
The Politics of Star Wars: Episode II – Hanna Aucoin
Your host is back with another Star Wars talk! Here we'll go through all of the political intrigue of Star Wars: Episode II - Attack of the Clones while avoiding all of the cringeworthy romance.
GRAB YOUR TICKETS
When: Wednesday, June 13 – doors at 6:30pm, show at 7:00pm
Where: The Oriental Theater
Tickets: $6 online, $10 at the door – 18+
As always, a huge thanks to our leading sponsor Sexpot Comedy and to our photography partners in crime From the Hip Photo!
SUMMARY
Nerd Nite is a bar-based monthly lecture series that takes place in nearly 100 cities worldwide. Think, drink, and hang out with fellow Mile High nerds at Nerd Nite Denver, Wednesday, June 13 at The Oriental Theater!
This month, Elizabeth Bowling talks about redheads, Michael Lucibella takes us on a journey to Antarctica, and host Hanna Aucoin sets the politics of Star Wars straight!