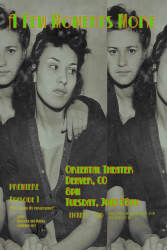 A Few Moments More (film)
Time: 8:00pm Day: Tuesday Doors: 7:00pm Ages: All Ages / Bar with ID Price: $10
This Event Has Ended
Timely and Quirky "Noir" Short Film Premiers at Oriental Theater
 A strangely-quiet TV sound technician who can talk to the freshly-dead teams up with the ex-girlfriend of a young woman whose battered body he finds half-submerged in Sand Creek in the black comedy series A Few Moments More by Denver film maker Gwylym Cano. 
 The pilot episode — "Who Killed My Girlfriend!" — will premier at the historic Oriental Theater at 8 p.m., Tuesday, June 26, 2018.
 In "Who Killed My Girlfriend," the suddenly?-psychic Totter is appalled when he realizes that the corpse he finds while biking is his longtime friend, Delia.
 After meeting at the Mercury Café, Totter teams up with Diana, the dead woman's former girlfriend, to find Delia's killer.
 Heartbroken, insurance investigator Diana channels her rage into wreaking revenge on her doubly-departed girlfriend's murderers.
 Aided by the dead Delia, the pair discover a criminal conspiracy by homicidal real estate developers who will stop at nothing to exploit Denver's booming population.
 The premier showing of the first episode of A Few Moments More will feature a live performance by the progressive/experimental rock band, Picture the Waves, as well as an opportunity to meet the cast and crew of the uniquely bittersweet tale by Cano's Fool Moon Productions.
 Cano — who describes A Few Moments More as "Jaques Tatti meets Twin Peaks" — said that his tragicomic vision was fulfilled by composer Drake Wheeless's soundtrack.