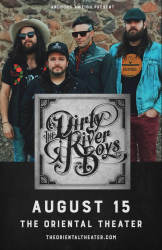 Anchors Aweigh Presents
The Dirty River Boys
w/ The Last Of The Easy Riders & Shawn Nelson
Time: 8:00pm Day: Wednesday Doors: 7:00pm Ages: All Ages / Bar with ID Price: $5 - $100
This Event Has Ended
Southwestern Folk/Americana/Punk from Texas. 
Showtimes
10:00 pm
The Dirty River Boys
9:00 pm
Last of the Easy Riders
The Dirty River Boys
It happened during an ordinary refueling stop for the Dirty River Boys, the band on its way from Austin to Tulsa to kick off a six-date run. The van pulled up at a gas station and its occupants scattered, with Colton James hopping on his skateboard and heading over to a grocery store for a rotisserie chicken.
But the board hit an oil patch and went flying, and the bassist found himself not just down, but possibly out. "I see him at the van and he's got a bone about to pop out of his shoulder, and our tour manager is on the phone," recalls drummer Travis Stearns.
So the band retreated to Austin, where an ER doc told James he had a shattered collarbone and would need surgery. In the meantime, they outfitted him with a sling. For a moment the band contemplated scratching its upcoming six-date run, because for a stand-up bassist, a collarbone tends to be necessary equipment. "Every time I lifted my arms to play the bass I could just feel the bones crunching on each other," he says.
But he didn't want to force his bandmates to cancel shows. Why don't I play the electric bass instead, he wondered, while sitting in a chair? Wouldn't that work? The band agreed, and they were off again. "That was a long bumpy drive with a broken collarbone," James wryly recalls. "Didn't even stop to get any medication on the way—that was a bad idea. "
But that's the Dirty River Boys ethos. Playing upwards of 200 dates a year, giving heartfelt, unrestrained performances, and winning over a loyal audience show-by-show, it takes a lot more than a few broken bones to stop them.
Last of the Easy Riders

From high in the Rocky Mountains, Last of the Easy riders descend with Unto the Earth, its new psych-infused country-rock long-player.
Like the Denver-based band's debut, a 2016 self-titled EP, the new full-length will be issued in January 2018 by Agitated Records on vinyl, CD and digital.
While the Easy Riders' first outing exhibited the band's kaleidoscope of trippy guitar sounds and production techniques, Unto the Earth unveils the band's earnest songwriting chops and knack for genuine Bakersfield-Sound country. Though, the guys certainly didn't abandon its lysergic-leanings, especially on the mind-warping title track - which also serves as the lead single.
With no shortage of jangly guitars, piano and pedal steel, the LP no doubt echoes Clarence White-era Byrds, but it doesn't stray far from the band's Southwestern-rock 'n' roll roots. The early-'70s AM rock sounds of Free Wheelin',' the opening track, reverberates the band's nomadic lyrical tendencies, while promptly setting up the sonic road trip Unto the Earth delivers. Turn the Tide,' which closes Side A, melds brilliantly modest Tom Petty-esque guitar riffing with the Easy Riders' signature vocal harmonies - which soar across both sides of the wax.
Being the first full-length for the band, the members - whom all share songwriting credits - were able to stretch out and laydown some lengthy and tastefully-stacked arrangements. From the fiery doors-esque jamming on Woodland Echoes' to the ominous western guitar lines of Shadow Cruiser,' numerous moods freely wander across the nine-song track list.
Almost all the lyrics are intended to paint vivid picture, and give listeners a sense of place,' says the band's co-founder Christopher Minarik (guitar/backing vocals). Certain songs and lyrics really lay it on the line and say exactly how the songwriter felt, or what they were going through. It's the most personal and honest songwriting I've ever done.'
Rounding out the lineup heard on the LP is bassist/vocalist Dan Duggan, guitarist Bradley Grear and drummer Mitch Mitchum. Unto the Earth was recorded in March 2017 in Lansing, Michigan by producer/songwriter George Szegedy - who also offered up his own song for the disc, the twangy-and-wistful It Won't Be Long' After five months of mixing and fine-tuning, the Last of the Easy Riders were ready to deliver the record.
In support of the album, the band's 2018 live shows will feature new bassist Gann Matthews and Hamilton Belk, who played pedal steel on the album
Shawn Nelson

Shawn Nelson is a songwriter, musician, singer and recent transplant to Golden, Colorado from Austin, Texas. Born and raised in Houston, Shawn moved to Austin to play music and spent over 10 years performing, writing songs and making records.
The Austin Chronicle named his 2011's San Juan Street "one of the best country albums of the year."
"I'm just a Houston kid who's been lucky to write, play and record music for many years. I've been fortunate to play my music on all kinds of stages across the country and to release a few albums along the way. It's a labor of love and at this point, my life's work."
Over the years Shawn has released nine independent albums with various band mates – four under Shawn Nelson, one with Shawn Nelson & The Good Buds, two with Shawn Nelson & The Ramblers, one under his first band Crazy Chester and one under 2Fer1 with fellow songwriter, Graham Wilkinson, which was recorded at the legendary Sun Studio in Memphis, TN. 
"I'm lucky to call the musicians who play on my albums, my friends. Every one of them is a fine soul and they believe in my music. I write most of my songs in solitude on a guitar or the piano, but for me, my music really comes alive when others are involved and that collective vibe and spirit is created - these guys make that happen and for that I am eternally grateful." 
Shawn has shared all kinds of stages with all kinds of bands, from Gruene Hall with Asleep At The Wheel to Stubb's with Drive-By Truckers to Shinyribs at Continental Club. Before departing Austin, Shawn held down two weekly residencies for years.
Tuesdays were down on the drag at the second oldest venue in Austin, The Hole In The Wall, with his string band pickers who are featured on the latest album, You Are Me. Wednesdays were on Rainey Street at Bungalow for the 2Fer1 show with fellow Austin songwriter, Graham Wilkinson.
"I've played my songs for many years in honky-tonks, bars, clubs, dancehalls, big stages, small stages, backyard parties, campfires, patios, hotel rooms, motel rooms, parking lots, farmers markets, flat-bed trailers, boats and even buses. Some of the songs are set closers, but all of them come from the heart and some of them are even true."
2016 proved to be a productive year for the songwriter with his songs featured on two releases from Austin artists, Graham Wilkinson and Samuel Grey Horse. Graham recorded one of Shawn's unreleased reggae songs, "I Am Not Alone" for his #Because Of You album and Grey Horse recorded the traveling country love song, "More Than California" off 2011's San Juan Street.
"I am a songwriter, singer and player. My main instrument is the acoustic guitar, a Gibson J-45. I call her The Workhorse and she earns every inch of that name. We have had a storied life together. She was actually stolen at a gig in 2015 and was returned to me by the Austin Police! When I was re-united with her, I realized that I am here on this terrestrial plane to be a songwriter. I love to write songs and there's nothing better than playing my songs for folks, it's what got me here and what keeps me going."
Inspired by those Tuesdays at the Hole In The Wall, Shawn and the group of string band pickers featuring Matt Slusher (South Austin Jug Band, Wood & Wire) on guitar, Fletcher Murchison (Will Dupuy, La Tampiquena) on mandolin and Morgan Patrick Thompson (John Evans, Asylum Street Spankers) on upright bass recorded a live studio album, You Are Me, on May 25, 2016.
You Are Me was released in late 2016 and includes some new songs, two cover songs from Townes Van Zandt and The Carter Family and acoustic takes on previously released songs. It's all strings and all songs recorded on one day at Signal Hill Recording in Austin.
The future is unknown and uncertain, yet there is something exciting about that to Shawn. He is excited to start a new band in Colorado and looking forward to bringing his music to the high country.