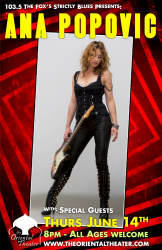 103.5 The Fox's Strictly Blues Presents:
Blues Guitar Great...ANA POPOVIC
with: Zakk DeBono & the Broken Circle
Time: 8:00pm Day: Thursday Doors: 7:00pm Ages: All Ages / Bar with ID Price: $22
This Event Has Ended
Showtimes
8:00 pm
Zakk Debono and The Broken Circle
Ana Popavich

L.A. based, Belgrade born guitar-player and singer ANA POPOVIC is back on the road promoting her new triple album TRILOGY - Her most ambitious project yet. 
With TRILOGY Ana releases three albums in one! Twenty-three funk, rock/blues and jazz tunes produced by Grammy Award winner Warren Riker (Lauryn Hill, Carlos Santana), Grammy Award winner Tom Hambridge (Buddy Guy) and Delfeayo Marsalis,one of the top trombonists, composers and producers in jazz today. Guest appearances include Joe Bonamassa, Robert Randolph and many others.
The only female guitarist part of the 'all-star' Experience Hendrix 2014 - '17 line-up about the release: "In an era where most are skeptic about the current state and future of the music industry, I wanted TRILOGY to tell a different story. The record biz might be broken and Spotify might rip us off, but that can't keep an artist down. Creativity is very much alive, and music is the celebration of life."
Ana, born in Serbia (formerly Yugoslavia), grew up in a family where music was very important. All throughout her youth, her father would invite friends over for nightly jam sessions. In this atmosphere, she quickly learned her father's impressive blues and soul record collection, grabbed his guitar and started playing at the age of fifteen. Since then, Ana has developed into an phenomenal guitarist/vocalist with a growing legion of fans throughout the world.
Ana and her powerful band are tirelessly touring, playing major blues, jazz and rock festivals. She is endorsed by Fender, D'Angelico, Jim Dunlop and DR strings. Ana has shared headlining stages with B.B. King, Buddy Guy, Joe Bonamassa, Gary Clark Jr. and many others. She's nominated for six Blues Music Awards, appeared on the cover of Vintage Guitar and Guitar Player magazine. Her albums Can You Stand The Heat (2013) and Unconditional (2011) where Pick-Of-The-Week by USA Today and featured on NPR Music. Nearly all of Ana's albums made it the Top 5 of the Billboard Blues Charts and are being played regularly on US radio. 
"Ana Popovic is one helluva a guitar-player."
- Bruce Springsteen
"Ana rocks the blues in fine, fine fashion."
- Billy Gibbons (ZZ Top)

Long version:
2017
Ana is nominated 'Contemporary Blues Female Artist' at the Blues Music Awards. It's her 6th nomination to date. Also her Album 'TRILOGY' is nominated 'Rock Blues Album'at the Blues Blast Music Awards.
2016
In May Ana releases TRILOGY. Her most ambitious project yet. With TRILOGY Ana releases twenty-three blues, jazz, and funk tunes on three CD's. TRILOGY is produced by Grammy Award winner Warren Riker (Lauryn Hill, Carlos Santana), Grammy Award winner Tom Hambridge (Buddy Guy) and Delfeayo Marsalis, one of the top trombonists, composers and producers in jazz today. Guest appearances include Joe Bonamassa, Robert Randolph, Bernard Purdie (The Purdie Shuffle), Cody Dickinson (North Mississippi Allstars) and rapper Al Capone. TRILOGY makes it to The Billboard chart (best selling blues albums in the US). Ana and her family relocate to Los Angeles, CA. She announces her first Australian tour.
2015
Ana joins Joe Bonamassa's Keeping the Blues Alive at Sea cruise. A journey across the Caribbean starring Joe, John Hiatt, Robben Ford, Robert Randolph and many other great talent. On May 19 Ana releases 'BLUE ROOM', with her dad Milton Popovic. About the record, produced by Jim Gaines (Stevie Ray Vaughn, Santana), Ana says: 'This album might be the most personal record I've done. I wanted to record the songs we use to play together while I was still living at home in Belgrade, Serbia. As a memory of my youth days but also to give people an idea of how and where things started.'
2014
Ana is nominated 'Contemporary Blues Female Artist' of the year. It's her 5th Blues Music Award nomination. She is invited for the Experience Hendrix Tour '14, a concert series celebrating the music & Legacy of Jimi Hendrix, featuring an 'all star' line-up that includes Buddy Guy, Zakk Wylde, Jonny Lang, Kenny Wayne Shepherd and Bootsy Collins. Ana is invited for a show in Sao Paulo, Brazil where she plays with Jeff Beck, Buddy Guy, Joss Stone, Jonny Lang & Trombone Shorty. Back in the US Ana tours with Jonny Lang, Buddy Guy and Robert Randolph. She brings her six-piece band over for two extended European tours and records a new studio album that is set to release in April '15.
2013
Ana is invited to play the prestigious New Orleans Jazz Fest where she introduces her new project; a nine-piece power blues and funk machine under the name Ana Popovic & Mo' Better Love. With AP & Mo' Better Love, Ana fronts a musical collaboration with Tony Coleman (drummer BB King) and John Williams on bass (Al Green). On April 16th follows the worldwide release of 'Can You Stand The Heat', Ana's ninth full-length album. The daring release features guest performances of Grammy Award winner Tommy Sims and Grammy Award nominee Lucky Peterson. 'The Heat' is in the top 3 of Billboard Blues Chart for 10 weeks. It's USA Today's Pick-Of-The-Week and featured on National Public Radio. Ana plays over 130 shows in the US, Canada, every country of Europe and even Japan. She's on the cover of Vintage Guitar magazine, GuitarPlayer's Gear Guide and American Blues Scene. In September Ana signs with Monterey International. One of the world's leading booking agencies.
2012
Ana performs at the Mahindra Blues Festival in Mumbai India where she jams with Buddy Guy, Taj Mahal, Robert Randolph and John Lee Hooker JR. In April Ana travels to Memphis, TN for a recording session at the Ardent studios . On June 1st Ana gives birth to a beautiful, healthy baby-girl Lenna. In August, after a five week tour throughout the US, Ana and her family relocate to Memphis, TN where Ana records another 3 weeks with local Memphis musicians creating an album in the vein of Albert King, Albert Collins and WAR, capturing the 'Old School' funky, bluesy Memphis Groove. The CD is produced by Tony Coleman (drummer BB King) and co-produced by Ana and Grammy Award winner Tommy Sims.
2011
From January till March Ana moves to New Orleans to record her 6th studio album, and 3rd Eclecto Groove release. The back to the roots & blues album 'Unconditional' is produced by Ana Popovic and Grammy Award winning John Porter. The record features New Orleans very best musicians like Ana's slide idol Sonny Landreth and Jon Cleary on B3 and piano. Also harp player Jason Ricci makes a guest appearance. In July Ana is honored to appear as a special guest at BB-King's German shows. During the summer the Ana Popovic band is scheduled for an impressive 35 summer-festivals all over Europe and the USA. The song 'One Room Country Shack' (Unconditional), is 'Pick-Of-The-Week' in USA Today, American's biggest national newspaper. Unconditional makes it to Billboard Blues Charts for 9 weeks peeking at #7. The album is at # 70 at Amazon's all music bestsellers list and # 1 at Amazon's contemporary Blues bestsellers list. Ana jams with Buddy Guy, Sonny Landreth and John Popper (Blues Traveler). In December Ana receives a 3-time nomination for the 2012 Blues Music Awards in the USA; for Contemporary Blues Album (Unconditional), Contemporary Blues Female Artist and Best DVD (An Evening at Trasimeno Lake).
2010
Fender Musical Instruments invites Ana for showcases at the NAMM show in LA in January and the Frankfurter Music Fair (Musikmesse) in March. Ana is nominated for The British Blues Awards in the 'Best Overseas Artist' category alongside BB King and Joe Bonamassa.
During a 5 week tour in the US and Canada Ana performes at Montreal Jazz fest, worlds biggest jazz festival, for an audience of 13000 persons. She jams with Blues Traveler, Gary Clark Jr and Hot Tuna. The band opens up for Robert Cray. At her hometown Belgrade, Serbia she performs before an over enthusiasts 75000 people audience. Ana is invited for a festival-tour in Indonesia playing shows in Jakarta, Bandung and the Island Bali. Her new live DVD 'An evening at Trasimeno Lake' is pre-released on July 28 during Trasimeno blues festival 2010 followed by the official European release in September and the US release in December.
2009
For the second time Ana and her European band are invited to play at the Legendary Rhythm & Blues Cruise. Ana jams on the high seas with Susan Tedeschi, Larry McCray, Bob Margolin and many others. Ana is part of Robert Radler's guitar documentary 'Turn it up aka TONE, about the world's best guitars and guitar players. In March and April Ana records her second Eclecto Groove album 'Blind For Love' at Castle Oaks Studio in Los Angeles with producers David Z (Prince, Jonny Lang) and Mark Dearnley (AC/DC, Paul McCartney).
BFL is released in July, the same month that Ana has the great honour to share the stage with BB King. In October BFL is #1 played album at the blues radio airplay charts at independent 'Roots Music Report'.
2008
Ana travels to Los Angeles to remix her album 'Still Making History' with platinum selling producer, Rudy 'Mayru' Maya. On May 5 Ana gives birth to a healthy baby-boy; Luuk. He weights 3.925 Kilo (almost 8 pound) and is born with lots of dark hair and big blue eyes. In June Ana, her band and baby Luuk gear up for a 5 week tour travelling all throughout the United States and Canada sharing the stage with Jonny Lang, Ronnie Earl, Los Lobos and many others. In July 'SMH' makes it's way to #3 at the US Billboard chart, bringing the number of weeks on the chart up to a total of 19.
2007
Ana makes appearance at the Sundance Film Festival in Park City, Utah. Her performance -together with Mike Finnigan and Lenny Castro- is followed the screening of BigSky Motion Pictures release 'What Love Is' starring Cuba Gooding Jr. Ana's record 'Still Making History' has it's worldwide release on June 19, 2007. The Eclecto Groove / Delta Groove Music inc. recording is produced by David Z. and Grammy Award winning producer John Porter (Los Lonely Boys, Bonnie Raitt, Keb' Mo', etc.) Ana does an impressive total of 152 concerts; seven intensive tours in the US, sharing the stage with many famous artists including blues legend Buddy Guy. Next to touring Europe and the US she even plays Russia and Mexico. In October Ana is invited for a Dutch combi-tour with Dutch 'guitar-hero' Jan Akkerman (Focus). Also in October Ana stars in Hollywood's production Springbreak '83 shot in New Orleans. That very same month her record makes its debut on the Billboard Blues Chart at #8 sharing the chart with the likes of Stevie Ray Vaughan. In November SMH makes it to #7 and in the beginning of December even to #4.
2006
Ana is invited for the legendary 'Blues Cruise 2006' - She's the first European artist ever called upon to play this prestigious cruise with their original band. In February Ana is nominated as 'Blues Artist of the Year' by the readers of 'BluesWax Magazine'. Other nominees are Tab Beniot and Joe Bonamassa. In July Ana receives a 6-time nomination for the 'Living blues awards 2006'. She's selected in categories as; 'Best blues DVD of 2005', 'Best Live Performer', 'Best Female Blues Artist' and 'Most Outstanding Musician (Guitar)'. In November, after a 13-week summer-tour throughout the USA, Ana signs a record deal at Eclecto Groove records (a division of Delta Groove Music) and travels to Los Angeles to record her first Eclecto Groove release.
2005
Ana releases her third Ruf Album jointly as a live DVD. Recorded at the 'Melkweg' in Amsterdam and Titled 'Ana! Live in Amsterdam' The DVD/CD is released in April in Europe and August in the USA. Ana tours throughout Europe and even plays in Dubai as part of Ruf's 'Blues Caravan - Ladies Night' with Sue Foley and Candye Kane.
2004
With great live shows, Ana's international demand continues to grow. She returns to the USA - this time touring three times - and plays concerts in Canada and throughout Europe. Together with her band she wins the prestigious jazz award 'Jazz a Juan-Revelation 2004' in Juan Le Pins, France. The award shows recognition of Ana's abilities in the jazz genre - another strong influence on her music. Ana begins an endorsement contract for Mesa Boogie amplifiers. She is also particularly proud to join many of the world's top guitarists as she begins endorsement for Ovation Guitars.
2003
Ana returns to Memphis and records her second album for Ruf Records. Titled 'Comfort to the Soul'; Half of the album was produced/mixed by Jim Gains in February, with the remainder produced and mixed by David Z (Prinz, Buddy Guy, Jonny Lang) in April. Praised for its diverse package of blues, rock, soul and jazz the album leads to Ana receiving a nomination at the prestigious WC Handy Awards in Memphis for Best New Artist of 2003 (the only continental European artist ever nominated in this category). Ana also becomes the first European artist to perform at the Show. The year also sees Ana endorsing 'Fender' guitars and 'DR handmade' strings for the first time. During the 'Rhythm & Blues Fest' in Peer, Belgium, Ana is invited on stage by 'The King of Soul', Solomon Burke, who immediately invites her to join him as a special guest for the rest of his tour.
2002
Ana is part of the European 'Jimi Hendrix Tribute tour' with Walter Trout. Ana also takes her European band on tour to the US for the first time. She receives three nominations for the 2002 blues Awards in France: 'Best Singer', 'Best Guitarist' and Best Album'.
2000 - 2001
In October of 2000, Ana travels to Memphis to record her first release for Ruf Records. Titled 'Hush'! after her first band, the release is produced by Jim Gaines (whose production credits include Santana and Stevie Ray Vaughan). 'Hush!' is released at the beginning of 2001. It is a period with many highlights as Ana's younger sister, Maja, enrols at the higher Professional school of Art in Utrecht. Ana joins various artists including Bernard Allison, Eric Burdon, Walter Trout, Popa Chubby, Jimmy Thackery, Taj Mahal and Buddy Miles on a Jimi Hendrix tribute CD: 'Blue Haze'. Her contribution is a version of Hendrix' 'Belly Button Window'. In 2001 Ana appears as 'special guest' on tour with Bernard Allison, who also joins her on one track of her CD 'HUSH!'
1999
Although now studying in the Netherlands; both a need to put the newly acquired music theory into practice, and a need to pay the tuition fees, leads to Ana forming a Dutch band. The band quickly becomes a popular fixture on the Dutch and German blues scenes. Inevitably, with increasing concert obligations, Ana decides to terminate her studies at The Conservatory and with a background of increasing unrest and bombing in her hometown of Belgrade Ana signs a record deal at Ruf records in Germany.
1995 - 1998
Music now begins to take up more time as Ana forms her very first band 'Hush' with friend and guitar player Rade Popovic. She rehearses frequently in a small garage in New Belgrade and live shows soon follow. Initially being a girl means Ana having to take second place, but that soon changes. Over the next three years Ana's band plays all the major club venues - by 1998 doing a hundred shows annually and making regular appearances on Yugoslavian television. The end of Communism means musicians are finally free to travel and Ana now plays blues festivals in Greece & Hungary. With her band Hush she records her first album "Hometown" as a limited pressing and, in 1998 successfully applies to study Graphic Design in Utrecht. Just a few weeks before her new Graphic Design course starts however, Ana decides to send in a tape to Utrecht's Conservatory. Ana's tape is selected right away, leaving her with a choice to make … feeling more a musician than a designer the decision is easily made.
1991 - 1994
Inevitably, Ana falls for the charms of the guitar. Her father continues to help her but realizes that his daughter's natural gift for playing the instrument goes beyond his own abilities. Although the family isn't rich Milutin and Vesna make it possible for Ana to take private guitar lessons and Ana puts her soul into them - surprising her teacher with her progress and rapidly developing a style of her own. Finally, on finishing her Grammar School education in 1994, Ana makes the decision to follow in her father's footsteps by studying Graphic Design at the University of Belgrade.
1981 - 1991
At school Ana is a good student. Not completely bitten by the guitar bug yet, she learns easily and likes to impress. Against the stormy political backdrop of Belgrade she receives good news: she is selected to attend one of the most prominent Schools in Belgrade. Despite her adolescent rebel years tempting her away from the classroom, and a volatile political situation under the Milosovic nationalist regime in Belgrade, she passes her exams without problems.
1976 - 1981
13 May 1976 - Ana Popovic is born in the old town of Belgrade, formerly Yugoslavia, the first daughter of Milutin and Vesna Popovic. Five years later their second daughter, Maja, is born. Ana grows up in a warm and loving family where music is very important. Her father Milutin is a creditable guitar / bass player, always inviting friends for nightly jam sessions. In this atmosphere Ana grows up, often listening to her father's impressive blues and soul record collection. Finally, at 15, Ana picks up her father's guitar.
Zakk Debono and The Broken Circle

Zakk Debono and the Broken Circle are: Zakk DeBono: Lead Guitar/Rhythm Guitar and Vocals, Desmond Washington: Drums & Noah Mast: Bass and back up Vocals.  The band have been tearing up the Front Range this year and have had some really great shows recently to add to there resume...including an opening slot last month for the one and only "Buddy Guy".  This is one Colorado act to watch out for in the next year, as they are breaking big!