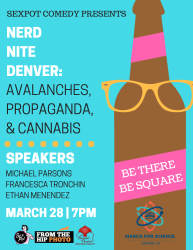 Sexpot Comedy Presents
Nerd Nite
Avalanches, Propaganda, and Cannabis
Time: 7:00pm Day: Wednesday Doors: 6:30pm Ages: 18+ / Bar with ID Price: $6

Nerd Nite: Avalanches, Propaganda, and Cannabis
If you are a fan of TED talks, the Discovery Channel, Wikipedia binges, and drinking, Nerd Nite Denver is the show for you!
**Online ticket sales end (or sell out) at 6:00pm on the day of the show but plenty are still available at the door. **
LINEUP
From November to July, avalanches happen more often than you think. Michael Parsons explains what happens in the mountains to cause these dangerous events.
Macho, Macho Men: Visual Propaganda in Antiquity and Today by Francesca Tronchin
From ancient Mesopotamia, to Egypt, to Rome, the image of a "tough guy" leader can be found in plenty of ancient societies. Dr. Francesca Tronchin explains how this image has evolved through the ages to result in modern-day imagery like shirtless Putin and its equivalents.
The Science of Jazz Cabbage by Ethan Menendez
Ever wonder why different strains of cannabis affect you differently? From Indica to sativa, smoke to oil, Ethan Menendez will teach us how to get the most out of your cannabis.
GRAB YOUR TICKETS
When: Wednesday, March 28 – doors at 6:30pm, show at 7:00pm
Where: The Oriental Theater
Tickets: $6 online, $10 at the door – 18+
As always, a huge thanks to our leading sponsor Sexpot Comedy and to our photography partners in crime From the Hip Photo!