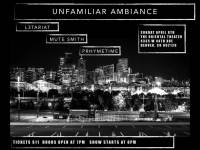 L3tariat
Prhymetime
Mute Smith
Time: 8:00pm Day: Sunday Doors: 7:00pm Ages: 18+ / Bar with ID Price: $11

Mute Smith
Owen's Smith a.k.a Mute Smith is a 21 year old hip-hop recording artist born and raised in the Bay Area, CA. His love for music began with writing poetry. In 5th grade, his love for poetry quickly transitioned into a love for creating music. Mute's musical influences come from growing up in a religious and avid music-listening family. He represents a movement and artist collective called Livin' Wild. Livin' Wild advocates for people to follow their dreams and passions and ignore all negativity. Mute Smith's main goal in life is to make timeless music that will live on for generations after his lifetime.
Prhymetime
Brendan O'Neill a.k.a Prhymetime is a 20-year-old rapper/studio engineer who was born and raised in Martinsville, New Jersey. At the age of thirteen, he started rapping as a way to cope with the loss of his father. Over the years he got more serious about his music and started purchasing studio equipment to record in the basement of his mother's house. In the fall of 2016, he moved to Denver, Colorado to continue his education at Regis University. Prhymetime is also connected to the brand "As I Should", a clothing line that represents individuality and self-pride.
L3tariat
Noah Jones a.k.a L3tariat (Letariat) is a 20 year old hip-hop recording artist from Denver, Colorado. Music first came into his life at the age of 5 when he began singing in his local church choir, and by the time he was 8 he was studying piano and music theory. L3tariat's influences are rooted in 90's R&B and soul as well as the conscious side of hip-hop. L3tariat represents the spirit of the Proletariat which comes from Karl Marx's system of government. The Proletariat is the working class of people in a capitalist society who are only valued in their ability to work and contribute to society as a whole. They are never given anything, or guaranteed anything. Through his music and movement, L3tariat hopes to combat the limitations and one dimensionality that so many people put on themselves today, and to show that ones value is rooted in ones being, and not ones ability to conform to the normal roles in society.