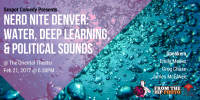 Sexpot Comedy Presents
Nerd Nite
Time: 7:00pm Day: Wednesday Doors: 6:30pm Ages: 18+ / Bar with ID Price: $6
This Event Has Ended
If you are a fan of TED talks, the Discovery Channel, Wikipedia binges, and drinking, Nerd Nite Denver is the show for you!
**Online ticket sales end (or sell out) at 6:00pm on the day of the show but plenty are still available at the door. **
LINEUP
Gargle the Good Stuff by Emily Meeks
Have you ever wondered where your tap water comes from? How does drinking water become contaminated? "Raw" water? Chemistry nerd Emily Meeks guides us through these waters to learn the clean and dirty side of our water system.
The Fourth Great Age of Technology: Deep Learning and Artificial Intelligence by Greg Chase
In the last 40 years, multiple "great ages" have come and gone in technology from the introduction of the first computer to the mobile devices we carry in our pockets. Currently, the fourth great age is defined by the prevalence of artificial intelligence and deep learning. Data scientist Greg Chase explains the importance of this technology we're witnessing today.
The Sound of Political Science: Microphones, Mixing and Political Manipulation by James McElwee
In the world of politics, sounds and media presentation can reflect and reinforce the political ideologies of its target audience. Having worked shows with the Governor and city officials before mixing shows at a house parties, James McElwee explains why you should be paying attention to what you hear.
GRAB YOUR TICKETS
When: Wednesday, February 21 – doors at 6:30pm, show at 7:00pm
Where: The Oriental Theater
Tickets: $6 online, $10 at the door – 18+
As always, a huge thanks to our leading sponsor Sexpot Comedy and to our photography partners in crime From the Hip Photo!
SUMMARY
Nerd Nite is a bar-based monthly lecture series that takes place in nearly 100 cities worldwide. Think, drink, and hang out with fellow Mile High nerds at Nerd Nite Denver, Wednesday, January 24 at The Oriental Theater!
This month, Emily Meeks wades us through the drinking water process, Greg Chase explains deep learning and artificial intelligence, and James McElwee tells us how sounds can influence political ideologies.
When: Wednesday, February 21 - doors at 6:30pm, show at 7pm
Where: The Oriental Theater
Tickets: $6 online, $10 at the door
More info: nerdnitedenver.com