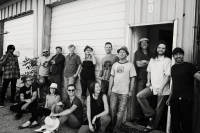 Highway 50
Mono Verde
Dub Haiku
Time: 9:00pm Day: Saturday Doors: 8:00pm Ages: 18+ / Bar with ID Price: $12

Highway 50 is a fusion of talent and genres that will have your foot tapping and your head bobbing along within the first few beats. It's a big crew: the band's lineup includes guitarists James Hambleton and Scott Higgins, drummers Jeep MacNichol (also formally of The Samples), Brian Nevin (of Big Head Todd and the Monsters), horn players Andrew McNew, Matt Planer, bassist Chris Wright and female vocalist Liz Forester. Live shows are always an exciting affair.
In 2016, Highway 50 released their sophomore album, The Violet Project, following their eponymous debut in 2014. The five-track EP is a compelling and upbeat mix of jazz, pop, and horn-soaked reggae. The band tours extensively throughout Colorado, proving to everyone that the Rocky Mountains can groove along with the best beaches.
Mono Verde was created to spread latin reggae rythms and its movement throughout north america. It also intends to introduce Latin reggae bands so their voices can be heard. Mono Verde is made up by members from countries like Mexico, Dominican Republic, Colombia, Venezuela, Peru, Saint Thomas and U.S who are in a continuous search for experiences to create spiritual, revolutionary music with the intention 
Formed in Lyons, Colorado, Dub Haiku is a band that combines reggae with the sounds of dub, fusion, and modern jam bands. The band formed in 2016 with original members Garrison Schulte on keyboards, melodica & vocals and Alex Kohler on drums. Garrett Long later joined the group on guitar & vocals, along with Alex Bullen on bass guitar. Most recently, the addition of guitarist Aaron Rovenger has contributed significant depth to the group's sound. Their self-released EP, available on Spotify and social media, was recorded just months after their lineup solidified and demonstrates their original songwriting and dedication to the genre. Dub Haiku has been steadily gigging around Boulder County, gaining fans and venue support with their entertaining performances. 
Showtimes
10:00 pm
Mono Verde Collective
Highway 50

Highway 50 is the brainchild of Al Laughlin, original member of the Boulder, Colorado band, The Samples. Laughlin co-wrote many of the band's most enduring songs including Did You Ever Look So Nice, Taxi, and Underwater People. His percussive off-beat reggae styling's on keyboards became known as "the bubble" and helped form the band's signature sound.    The Samples sold over one million albums in the 1990's as they sold out venues in college towns across the country and headlined some of the H.O.R.D.E. tour shows in 1993 and 1996. They shared the bill with big names such as The Allman Brothers Band, Blues Traveler, and Phish and many up and coming bands opened up for them including The Dave Matthews Band and Hootie & the Blowfish. The band's success included television performances on The Tonight Show and House of Blues Live.  Laughlin continued writing songs after he left The Samples and, after years of urgings from fans, Highway 50 was born.Guitarist James Hambleton was recruited and the band began recording and playing clubs all over Colorado. The rest of the lineup is a rotating "whos who" of the Colorado music scene including fellow former Sample Jeep MacNichol and Brian Nevin (of Big Head Todd and the Monsters) on drums, Andrew McNew and Matt Planer on horns, and Julie Gussaroff on mandolin.Highway 50's sound blends ska, reggae, jazz, pop and R&B with Laughlin's melodic vocals and introspective lyrics. The band's following continues to grow and big things are up ahead in 2012 and beyond…
Mono Verde Collective
This project arises with the intention to present Latin Reggae and Latin Rythms in our language to people
in this course. And therefore,bring to light Latin American Reggae bands.
Mono Verde is made by musicians from Mexico, Dominican Republic, Venezuela, Colombia, El Salvador and U.S, continuing in the search of experiences to create revolutionary, spiritual music with the intention of helping our brothers.
At the moment, they have independently recorded an produced two Albums: "Ensamblando Culturas" (Assembling Cultures) and "Ecos de fe y esperanza" (Echoes of faith and hope), which now is in promo.